Captain America & The Winter Soldier Special #1
Marvel Comics
Written by Jackson Lanzing and Collin Kelly
Art by Kev Walker
Inks by JP Mayer
Colors by KJ Diaz
Letters by Joe Caramagna
The Rundown: The history of the Outer Circle is revealed as its newest member prepares his move for the game.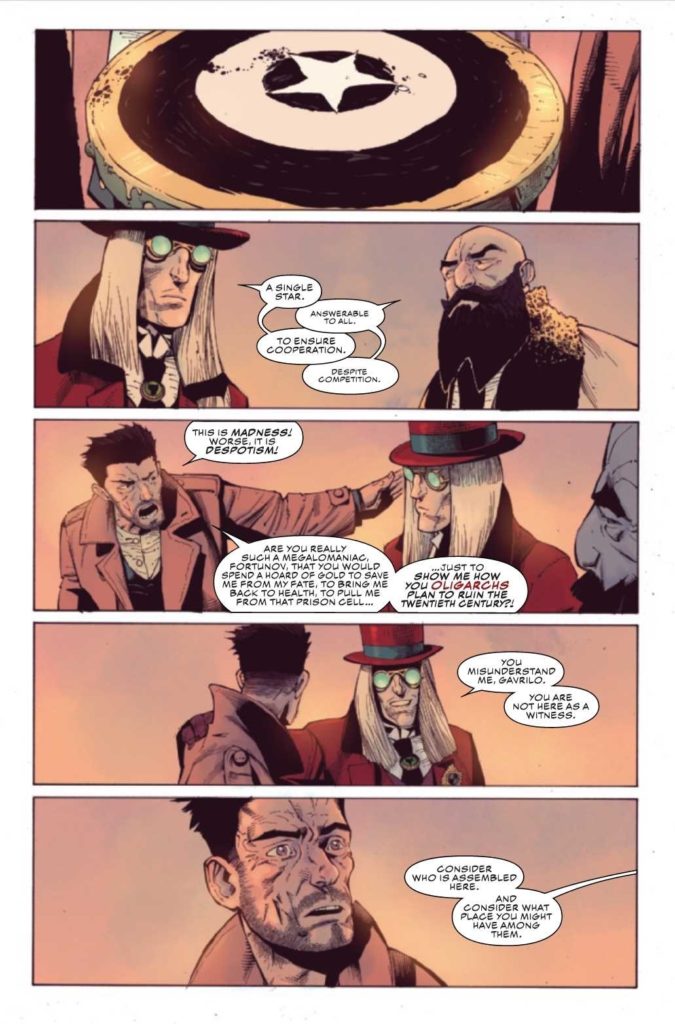 In the wake of the war to end all wars, a group of powerful individuals gathers on a battlefield to craft a new game. A game that will have them influencing events from the shadows for decades to come. Each player will make their move, but there will always be one who will try to stop them, the Revolution. In the present, the Revolution is killed and a new one is set to take his place. A new Revolution named Bucky Barnes.
After taking his place with the Outer Circle, Bucky discovers that destroying the Outer Circle is not as easy as he hoped. After getting some interesting advice from one of the players, Bucky decides to play a new game. One that will require him to call on a familiar face connected to the group to destroy the Outer Circle from within.
The Story: Lanzing and Kelly craft an intriguing and compelling political thriller in this issue. The story has great drama, characters and depth that kept me engaged from start to finish. I love this new mission for Bucky and how it gets him out of the shadow of Steve Rogers and puts him on a path that is challenging both emotionally and philosophically.
The Art: Walker delivers some beautifully detailed, dark and compelling art throughout the issue. The character designs are fantastic and the visual world of this issue is amazing.