Blue and Gold #7
DC Comics
Written by Dan Jurgens
Art by Phil Hester and Eric Gapstur
Colors by Chris Sotomayor
Letters by Rob Leigh

The Rundown: Another Blue Beetle lends his aide to the Blue and Gold team.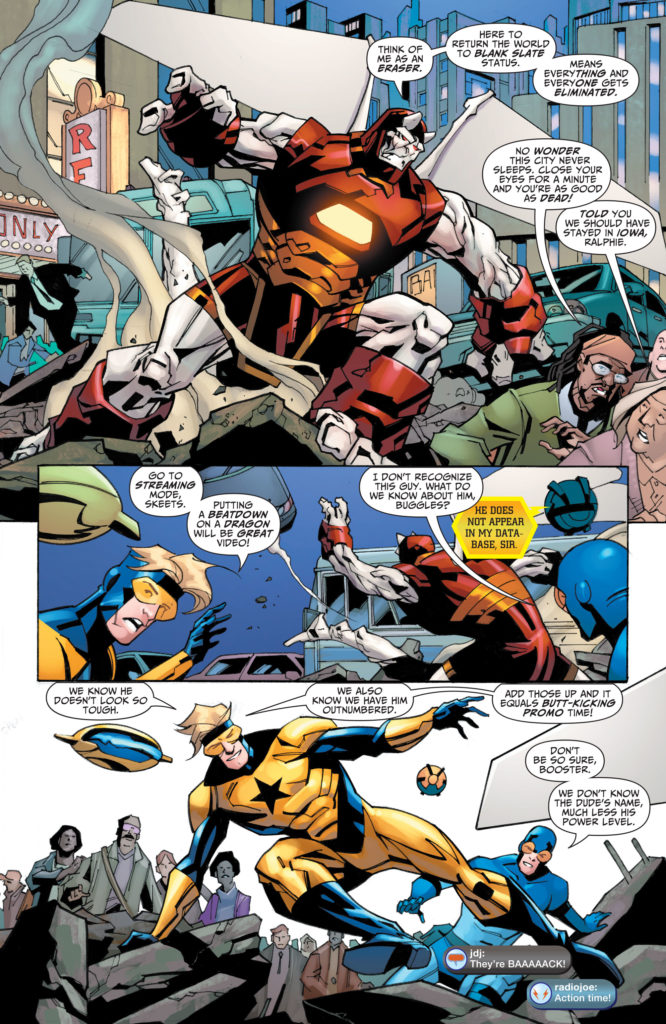 The story opens with James Reyes being confronted and subdued by a mysterious enemy with a relationship to Nullifex. Meanwhile, a conversation involving Terri, Booster Gold, and Blue Beetle is interrupted by Nullifex's attack on the city. Then Booster and Beetle engage their enemy in battle. Soon James Reyes, as another version of Blue Beetle, arrives on the scene and renders his assistance. Afterwards, Booster and Beetle make Reyes an interesting offer. In the ending scenes, a new villain reveals his identity.

The Story: The penultimate chapter of this series introduces both a new hero and villain with obvious ties to Booster and Blue Beetle. As in previous stories, it also addresses the teams' financial woes. Although their attempts to gain popularity and capital are presented as entertaining, their struggles shed light on the logistical challenges of hero work. Booster's dedication to ethical behavior is admirable as he has the means to use his knowledge of the future for personal gain. For me, this shows more of his character than any of his good deeds. In terms of the overall narrative, I'm curious how the finale will play out, as the previous storylines have all been neatly wrapped up.

The Art: The art in this issue is filled with brilliant colors and detailed drawings. Overall, I found the artwork to be visually pleasing and emotionally connective.