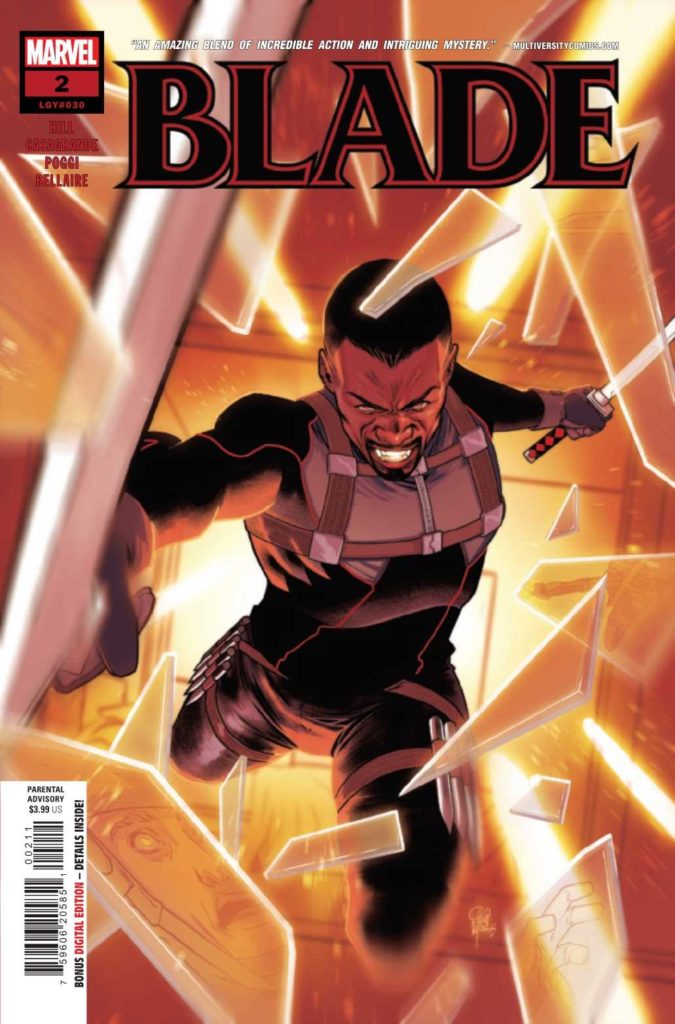 Blade #2
Marvel Comics
Written by Bryan Edward Hill
Art by Elena Casagrande
Inks by Elena Casagrande and Roberto Poggi
Colors by Jordie Bellaire
Letters by Joe Sabino
The Rundown: Blade turns to an old love for a favor as things get more dangerous for them.
Tulip has run afoul of some dangerous and powerful people in Japan and Blade arrives just in time to save her from a bullet. As the two discuss the bigger threat coming for the world, their night is interrupted by another threat that manages to separate the pair and escape with Tulip.
After securing help from Rotha for a rescue mission, Blade finds himself going up against a powerful supernatural foe who has the power to control anyone and Blade is his next target.
The Story: Hill continues to craft an exciting adventure for Blade and this issue is no exception. I love the dark, underworld tone and themes of the story and how immersive the world of this story is. Every moment is filled with great dialogue, action and thrills. The plot has a fantastic build up to a cliffhanger ending that guarantees that I will be coming back for more.
The Art: Casagrande delivers fantastic art throughout the issue. The visuals are perfect for this story and character and the action is phenomenal.