Black Cloak #4
Image Comics
Written by Kelly Thompson
Art by Meredith McClaren
Colors by Meredith McClaren
Letters by Becca Carey
The Rundown: Phaedra reveals what caused her exile as the mystery deepens.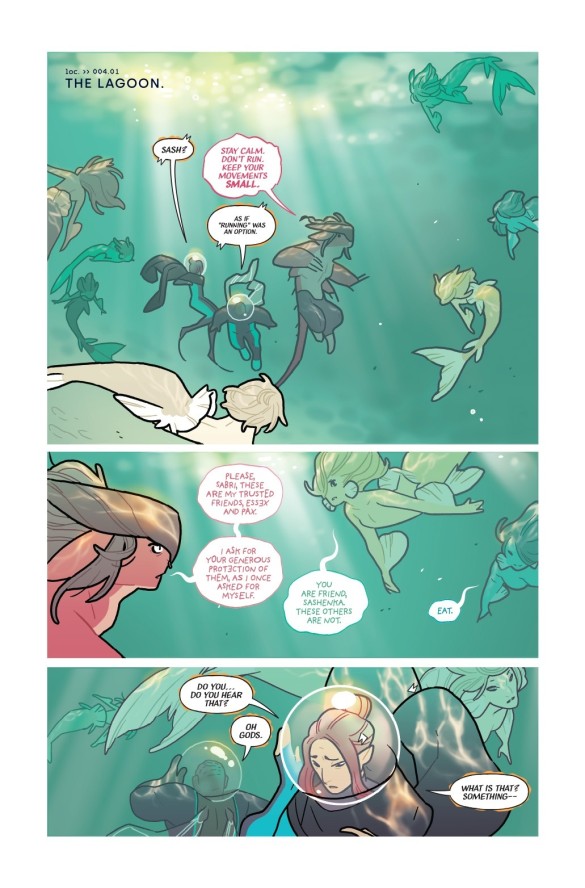 Phaedra and Theron swim with the mermaids in an attempt to learn who dumped the body into their waters. After learning the dangerous truth, the pair decide how they want to continue their investigation and how they are going to get justice considering the high profile of both the victim and the killer. Unfortunately, their investigation hits a snag when the powers that be turn the two black cloaks into fugitives.
As the pair split up and promise to meet later, Phae returns home and finally tells Nida the truth about how she became an exile from the royal family. A truth that will lead the partners on a dangerous quest to meet with someone who could either help them or turn them in.
The Story: The mystery deepens in this issue and even though Phaedra is getting answers to her questions, the answers she receives only make her case and her life more dangerous. The backstory was really well done and gave the reader some great context to the character relationships and motivations. The danger is increasing for the characters and I cannot wait to see what happens next.
The Art: McClaren delivers some beautiful art in the issue. I love the visual style of the story and the environment the characters inhabit is beautifully detailed and inviting.