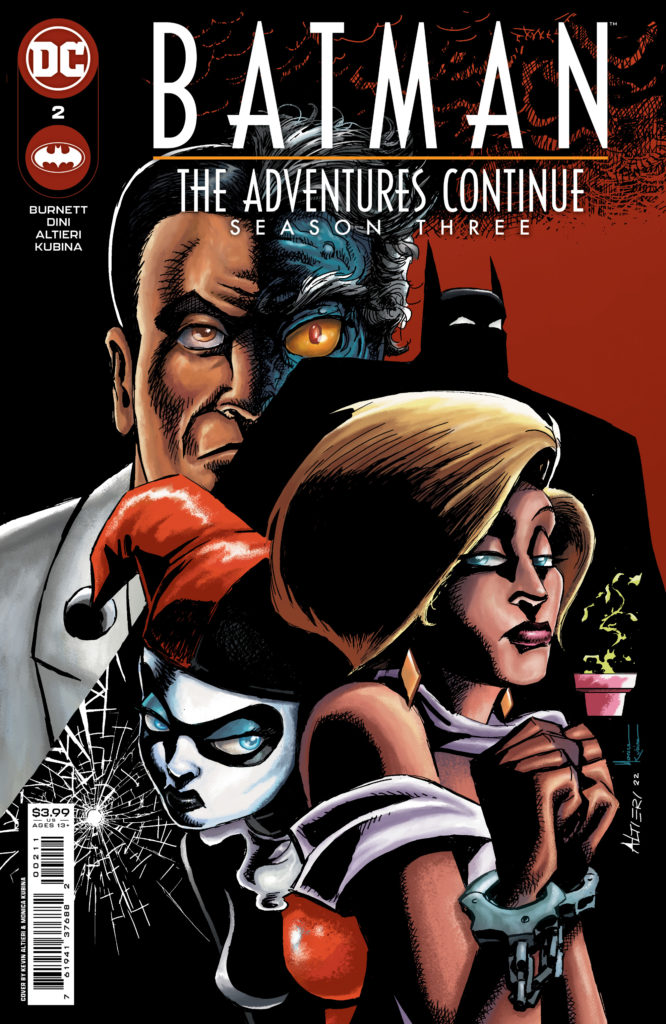 Batman the Adventures Continue Season Three #2
DC Comics
Written by Alan Burnett and Paul Dini
Art by Kevin Altieri
Colors by Monica Kubina
Letters by Josh Reed
The Rundown: Batman teams up with Harley Quinn to rescue a kidnapped heiress with some interesting secrets.
After a falling out with Poison Ivy, Harley Quinn is feeling alone and unable to find any of her other friends to hang out. When she discovers that an old flame from college is in town, she decides to pay her a visit. At the same time, Bruce Wayne is paying that same friend a visit and recounting their times in college before leaving for the night. When Harley arrives, she's just in time to see her friend get kidnapped.
When Batman discovers a link between one of the kidnappers and Two-Face, he goes to pay Harvey a visit. When Harley arrives as well, the pair team up to discover the truth as more revelations are made about their mutual friend and her colorful past.
The Story: An entertaining and fun ride for both Batman and Harley. While the story is predictable, it's the journey that makes it fun and engaging. I like seeing Bruce confront some personal issues that he wasn't prepared for and the revelations in the story are surprising, especially the one with Two-Face. Overall, an enjoyable standalone story with a fun progression of events.
The Art: Altieri delivers some beautifully detailed art throughout the issue. I love the visual style and how immersive the imagery is.