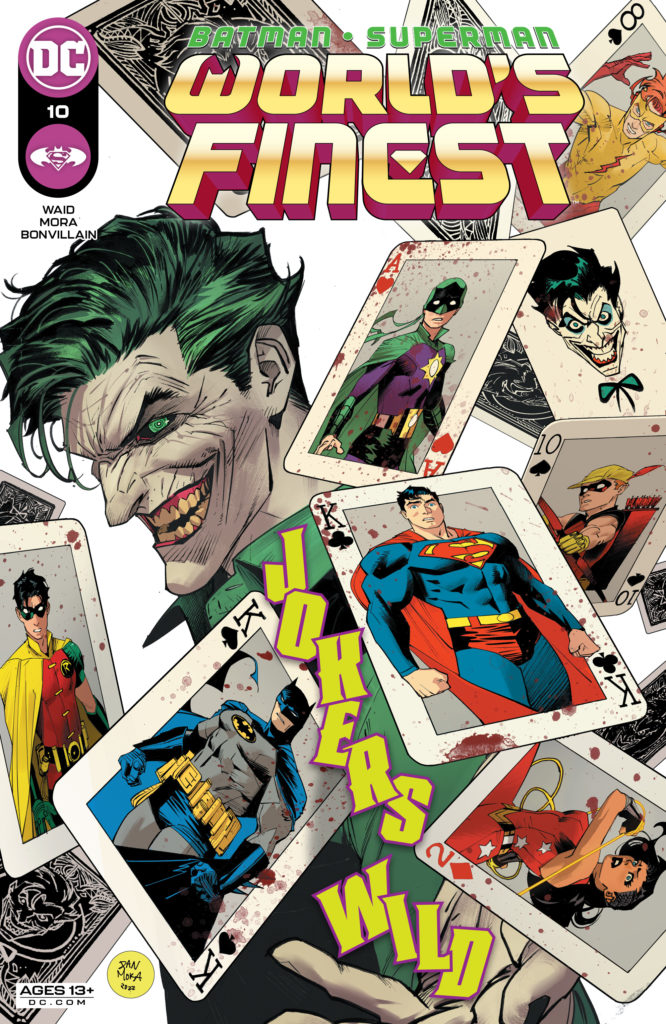 Batman Superman World's Finest #10
DC Comics
Written by Mark Waid
Art by Dan Mora
Colors by Tamra Bonvillain
Letters by Steve Wands
The Rundown: Batman and Superman continue their desperate search to find David before it's too late.
Both the Key and Joker have kidnapped Superman's new sidekick David and taken him to an undisclosed location where Joker proceeds to torture the young man for information while Key tells him the truth of his past. At the same time, Superman, Batman and the Teen Titans tear Gotham's underworld apart looking for the boy while Batman reveals how the man of steel is not use to personal loss.
Batman puts his detective skills to work and they find the location where David is being held. As the boy continues to be tortured by the Joker, the heroes manage to find a way to find him just in time. Unfortunately, David not only revealed something that will be of use to the Key, but his desire to kill Joker will fuel him when they encounter each other again years later.
The Story: Waid delivers an emotional and exciting story in this issue. The action is fantastic and I love seeing how the characters interact with each other. The addition of the Titans to the roster is great and gives the reader a great look at the stakes facing young heroes and their mentors as Superman is given some great drama to deal with in the story. I love the twist at the end of the issue and the reveal of who David really is. Makes me excited to see what happens next.
The Art: From the horrific to the surreal, Dan Mora's art is brilliantly detailed and beautifully designed. Every page has something that catches the eye and captures the imagination and I want more.