Batman Off-World #1
DC Comics
Written by Jason Aaron
Art by Doug Mahnke
Inks by Jaime Mendoza
Colors by David Baron
The Rundown: Batman leaves Gotham to begin a dangerous mission among the stars.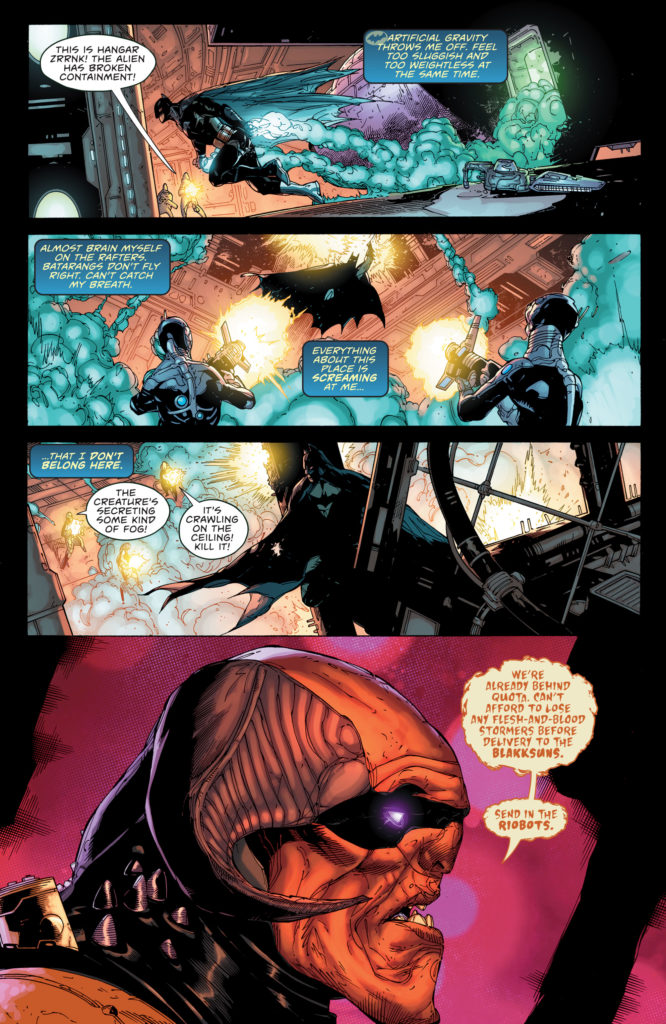 An alien vessel picks up another one and the crew sent in to check out the derelict ship will discover that it is not unmanned when Batman begins fighting to defend the ship from the alien invaders. Unfortunately, his skills are not enough to keep him from being captured and thrown into a cell.
As Batman finds himself at the mercy of the alien guards and forced to do menial labor, he begins to learn more about his captors, their skills and their tactics.
The Story: Aaron crafts an interesting and engaging story in this first issue. Taking a character like Batman out of the confines of Gotham and thrusting him into a world he isn't prepared for is a bold choice and it makes me curious about the story and the direction Aaron is going to take it. I'm interested in seeing how Batman evolves in this story and how his tactics will have to evolve and change in this new environment.
The Art: Mahnke delivers some beautifully detailed and visually impressive art throughout the issue. The visuals connected with me as a reader and I was drawn into every moment both with the action and the quieter moments.