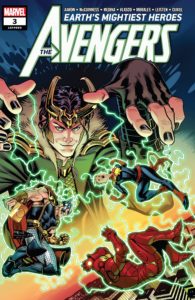 Avengers #3
Marvel Comics
Written by Jason Aaron
Art by Paco Medina and Ed McGuinness
Inks by Juan Vlasco, Mark Morales and Jay Leisten
Colors by David Curiel
Letters by Cory Petit
Ghost Rider and Hulk continue to fight the alien bugs that have come up from the ground and Hulk continues to hear a voice in her head urging her to go deeper underground. This leads Robbie to follow her down as the rest of the Avengers find themselves in the clutches of Loki.
As Loki lays out what the Final Host plans to do with the Earth, Cap makes a desperate play to free the team and remove Loki from the field. A plan that might cost him more than he thought. At the center of the Earth, Doctor Strange and Black Panther discover that the creatures that they are fighting have tapped into an energy source that is expanding their powers. As the pair prepares to be overrun, they are joined by Ghost Rider and Hulk.
At the same time, Cap wakes up and discovers that stopping the Final Host is going to be a lot harder than he thought, especially with Loki helping them. On Earth, Carol and Tony get into it and Thor has to step in. It's gratifying that Aaron chose to keep the animosity between Carol and Tony intact and not gloss over it with some fake attempt at team bonding. These are people who don't particularly want to work together no matter how much they might like each other personally.
Everything comes to a head when Loki reveals something to Steve, Tony and the rest of the team try to discover what is happening and Thor decides to confront Odin about the secret he's been keeping for a million years. The mysteries in this issue continue to deepen as we finally get the Avengers starting to ask questions. Responding to the current threat they face is going to require more than what they've been doing and Aaron has done a good job of raising the stakes of the threat as well as revealing things that have the potential to change the course of the hero's struggle as well. I particularly loved the reveal at the end and can't wait to see what happens next.