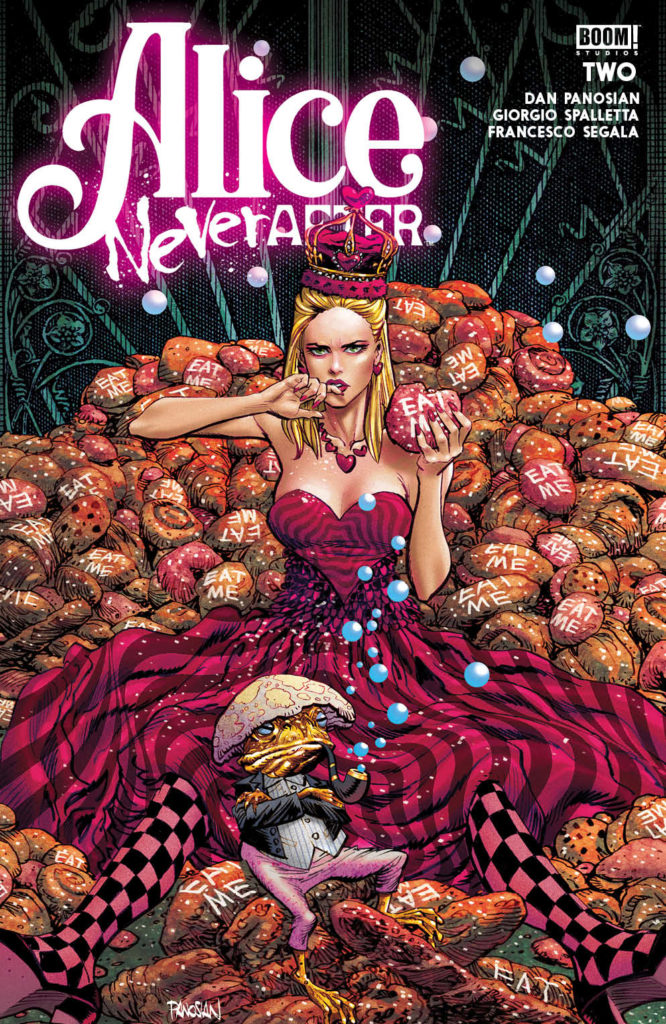 Alice Never After #2
BOOM! Studios
Written by Dan Panosian
Art by Dan Panosian, Giorgio Spalletta and Cyril Glerum
Colors by Francesco Segala and Gloria Martinelli
Letters by Jeff Eckleberry
The Rundown: Alice finds her rule challenged while dark forces move against her in the real world.
Alice continues to drift between the real world and Wonderland and her time in the magical kingdom becomes more difficult when her first act as the new Queen of Hearts is to preside over a hearing to allow the Cheshire Cat to return after she banished him. A hearing that will take some ridiculous twists and turns until Alice does something unexpected. Something that continues her down a dark path.
In the real world, Alice's father meets with the former head of the institution to discuss the secrets she overheard as well as what she wants in exchange for keeping them secret. At the same time, Alice's sister meets with the doctor who operated on Alice and he has some demands of his own.
The Story: Panosian continues to craft some engaging and entertaining moments throughout this issue. Alice is going down a dark path and is facing some interesting challenges both in Wonderland and the real world. I love the contrast in both stories and how they connect with each other through the side characters and their connections to Alice. I like the journey Alice is taking throughout the series as well and look forward to seeing what happens next.
The Art: All of the artists deliver stunning visuals throughout the issue. The visual styles work beautifully together and the imagery is immersive.