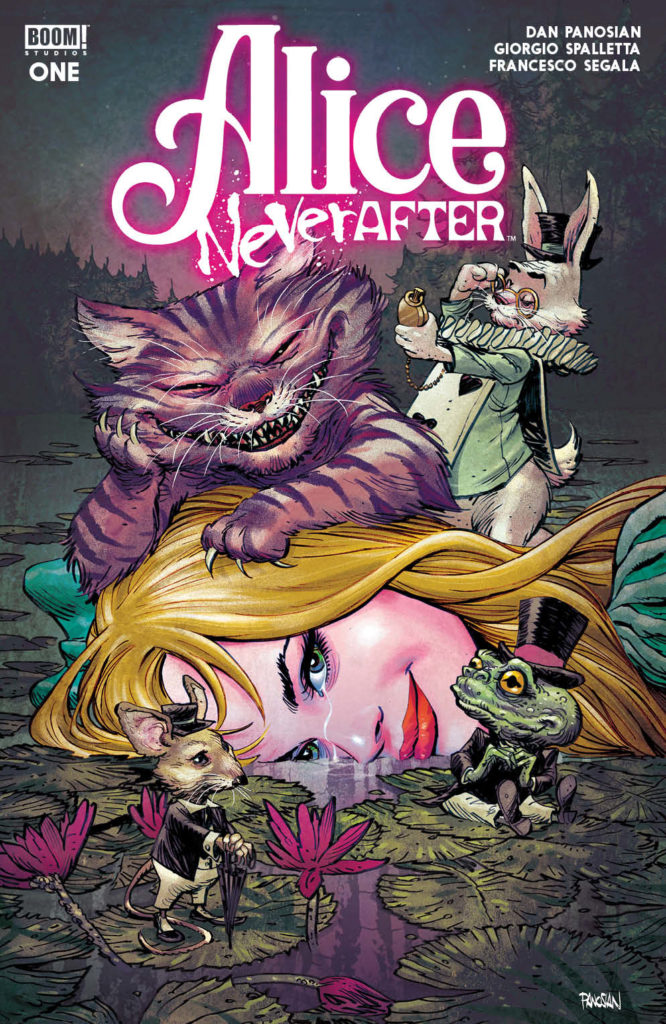 Alice Never After #1
BOOM! Studios
Written by Dan Panosian
Art by Dan Panosian, Giorgio Spalleta and Cyril Glerum
Colors by Francesco Segala and Gloria Martinelli
Letters by Jeff Eckleberry
The Rundown: Alice discovers there might be danger in Wonderland as her sister tries to help her in the real world.
Alice's sister and her fiancé continue to try to reach Alice in the real world as her mind continues to wander back and forth. Unfortunately, rescuing her from the now imprisoned doctor and his boss hasn't improved her mental state and the girl's father continues to reach out to the woman who almost killed Alice while her sister pays a visit to the doctor for answers.
In Wonderland, Alice continues to live and thrive among her friends, but a short visit from the white rabbit will make her curious about why he is always late. As she gets lost in the forest, rumors of the return of the Cheshire Cat loom over her happy world.
The Story: Panosian is taking this story in some dark and interesting directions. There are growing dangers for Alice both in Wonderland and the real world. Both parts of the story are equally compelling and I love the drama between them both. The period drama in the real world is dark and ominous while the Wonderland story has a different kind of darkness within its lighter tone. It will be interesting to see where Panosian takes this story next.
The Art: All of the artists deliver beautiful imagery throughout the issue. I love the visual style of both the real world and Wonderland and how they brilliantly complement each other.