A.X.E.: Death to the Mutants #3
Marvel Comics
Written by Kieron Gillen
Art by Guiu Vilanova
Colors by Alex Guimaraes and Erick Arciniega
Letters by Travis Lanham
The Rundown: With the planet on the brink of destruction, the remaining heroes attempt to stop the Progenitor from destroying the machine.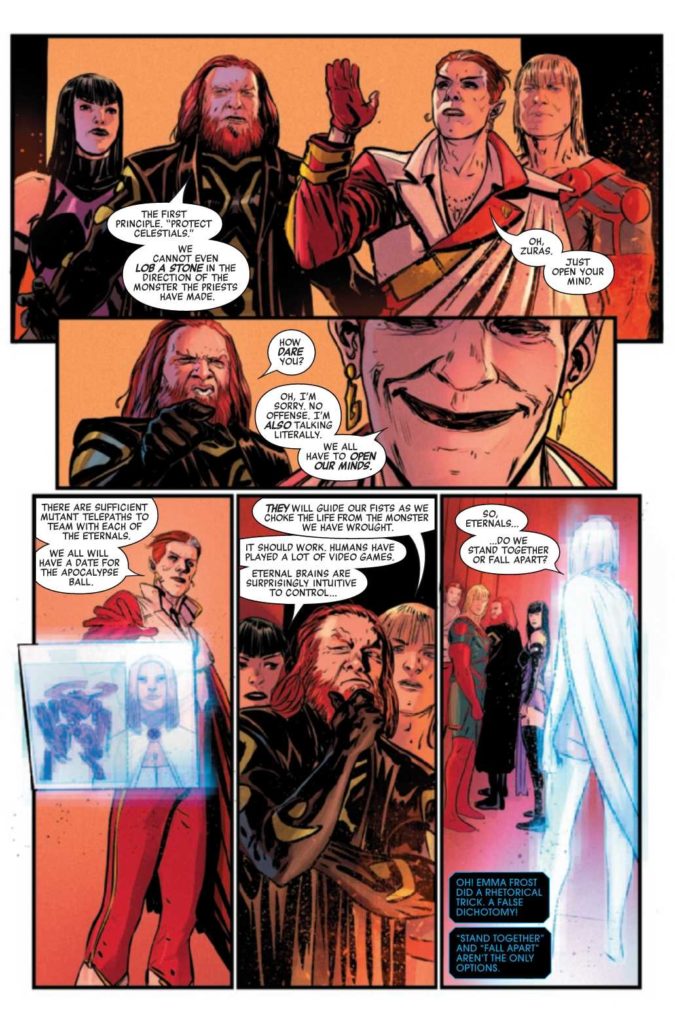 After enlisting the Eternals to the fight, the mutants and Avengers take it to the Celestial Progenitor waiting for them. While it takes out the heroes, it also attacks the machine of the Earth who is actively opposing it. A fight that will not last long against a creature of its power.
The remaining heroes regroup at Avengers Mansion with an unexpected resurrection and prepare for the next part of their plan. A plan that will require defending the machine itself while finding a way to distract the Celestial. A plan that Phastos will have to begin on his own.
The Story: Gillen continues to craft an engaging and entertaining story that beautifully enhances the bigger Judgment Day arc. The behind the big action stories are compelling and I love how dark and tense this issue is. Having the machine as narrator is a great touch and adds some humor to the plot that is definitely needed among the tension.
The Art: Vilanova delivers some beautifully stylish and detailed art that has great moments of intrigue among dazzling visual action.