War of the Realms #3
Marvel Comics
Written by Jason Aaron
Art by Russell Dauterman
Colors by Matthew Wilson
Letters by Joe Sabino
With Malekith's forces spreading across the globe, Freyja knows the only chance the forces of Midgard have of stopping the invasion is finding her son Thor.
After enlisting Captain America to go on a mission to Jotunheim to find the god of thunder, additional teams with their own missions move into position. In order to open the Bifrost and allow the teams to reach their destinations, Daredevil must team with Heimdall so that the newly blind gatekeeper can transfer some of his power to the hero. Matt begins to see more, including the arrival of Jane Foster and the Destroyer to guard them on their dangerous mission.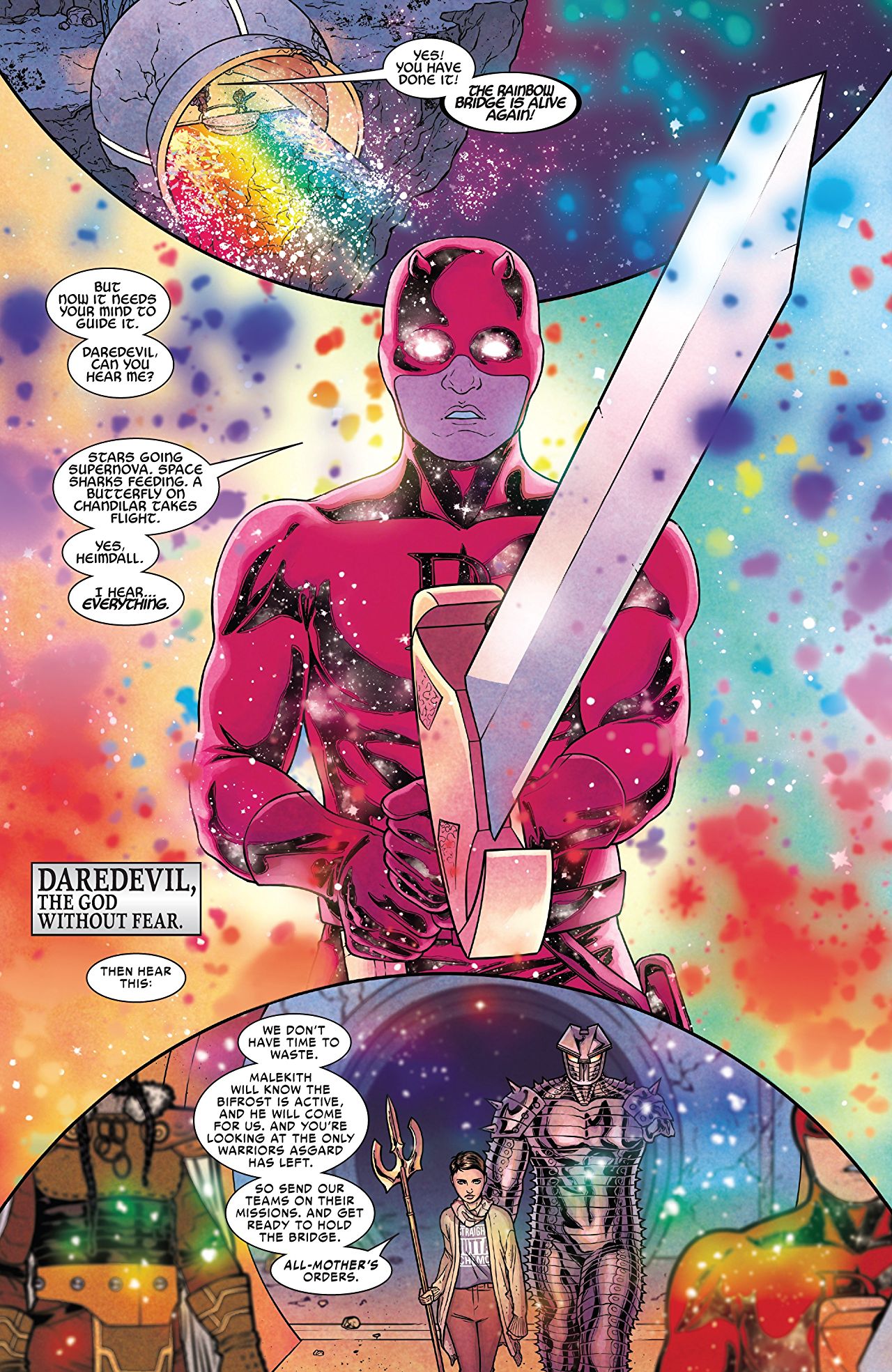 A strike team of Captain America, Spider-Man, Wolverine, Iron Fist and Luke Cage manage to make their way to the land of the Frost Giants just in time to run into a group of archers. Another team has been dispatched to take out Malekith's dark Bifrost and the team of Punisher, Ghost Rider, Hulk, Blade and Valkyrie run into some heavy opposition. When the group searching for Thor finally reaches him, Wolverine tells them to back off because there is a recognizable fury in the thunder gods eyes.
Carol leads her band of War Avengers into battle against Malekith himself as both Shuri and Tony Stark get a lesson in weapon making from Screwbeard.
Jason Aaron makes this series work with great writing and a plot that continues to move and evolve as the characters are put through some pretty intense paces. It's an enjoyable ride seeing all of these characters deal with realms they usually never visit and Aaron ends the issue perfectly with a bloodthirsty Thor on a rampage.
Russel Dauterman does great work with the art. There are moments of beauty mixed with amazing action scenes filled with brutality.