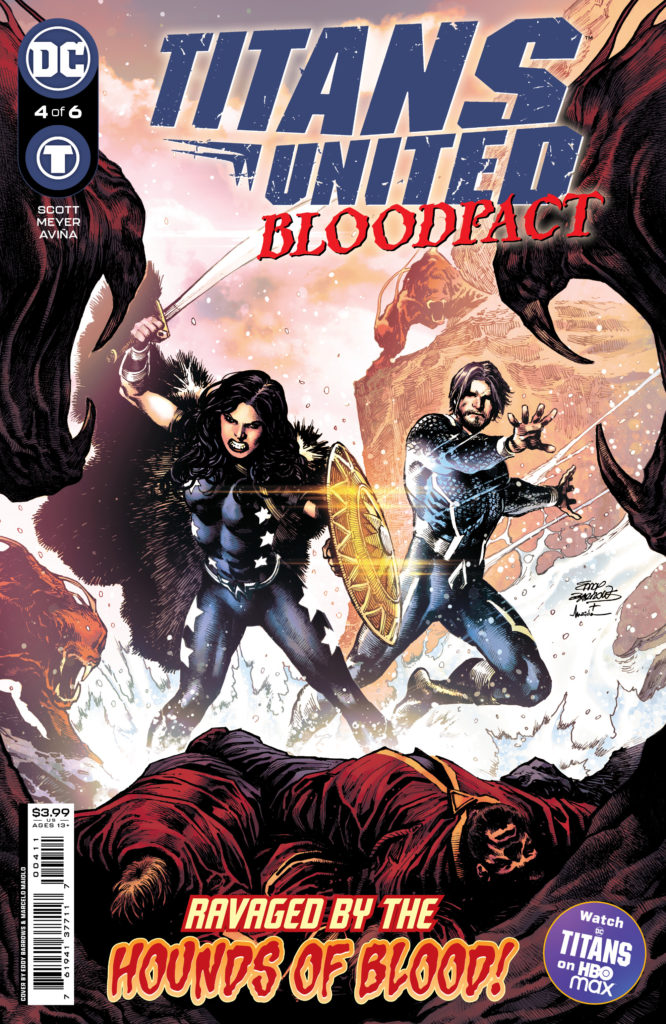 Titans United: Bloodpact #4
DC Comics
Written by Cavan Scott
Art by Lucas Meyer
Colors by Tony Avina
Letters by Carlos M. Mangual
The Rundown: Tim continues to gather the rest of the Titans as Blood prepares to make one of them a sacrifice.
A plane is set to crash in the city and Lex Luthor's experiment leaps into action to save it bringing Conner into the view of Raven's forces, especially Starfire. As Kory laments what she did and who she killed to capture Superboy, Raven tells them that they don't have time to wait as Conner's execution is scheduled to begin soon.
Needing reinforcements, the Titans travel overseas to secure Donna Troy's help as she and Tempest fight off the forces of Raven and Blood. After securing their help, the Titans prepare to rescue their friend, but his public execution will lead to a dangerous revelation.
The Story: Scott does a great job of crafting a great world for these characters to exist in. The story handles the emotional moments really well and the plot has a great sense of rising tension throughout as it brings all the characters together for a cliffhanger ending I was not expecting, but was surprised and pleased by just the same.
The Art: I love Meyer's visual style and the issue has some fantastic action throughout while also giving the characters some awesome visual moments as well.