Stillwater #16
Image Comics
Written by Chip Zdarsky
Art by Ramon K Perez
Colors by Mike Spicer
Letters by Rus Wooton
The Rundown: The truth is revealed and the person who brought immortality to Stillwater tells her story.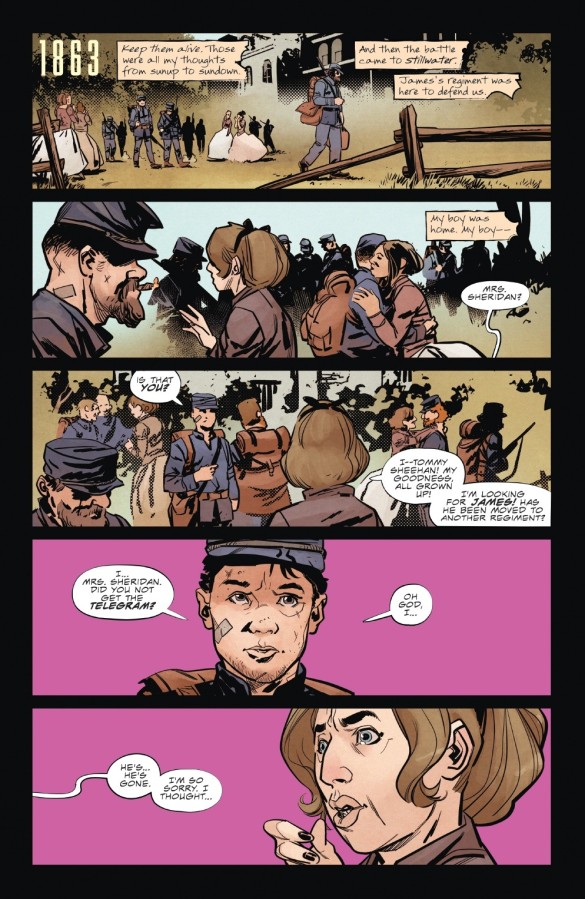 Clarice Sheridan lives her life in Stillwater in the early 1800's after giving birth to triplets. Unfortunately, only two survive and as she loves her sons, the memory of the one who died tears at her. When the boys get older and the threat of the Civil War looms over the town, one of her sons joins up to fight. A fight he will not return from.
When the war makes its way to the town, Clara makes a dark deal with a mysterious entity to save her remaining son. A deal that will not only cause the current issues in the town, but one that will label her a witch and bury her for a century. When she finally emerges and sees the changes in time, she tries to hide from the world. Unfortunately, Galen and his forces will discover something that will put a target on her back.
The Story: The deep dive into the past of Stillwater fills in a lot of information about the town, its characters and the history of violence that seems to permeate it and it's great. I love the personal story and how Zdarsky centers this issue on Clara and her struggles. There are some dramatic elements throughout the issue and I love how this story deepens the mystery of the series.
The Art: Ramon K. Perez delivers dazzling art throughout the issue and there are some great character moments that are brought to life as well as awesome and thrilling supernatural imagery that is visually engaging.