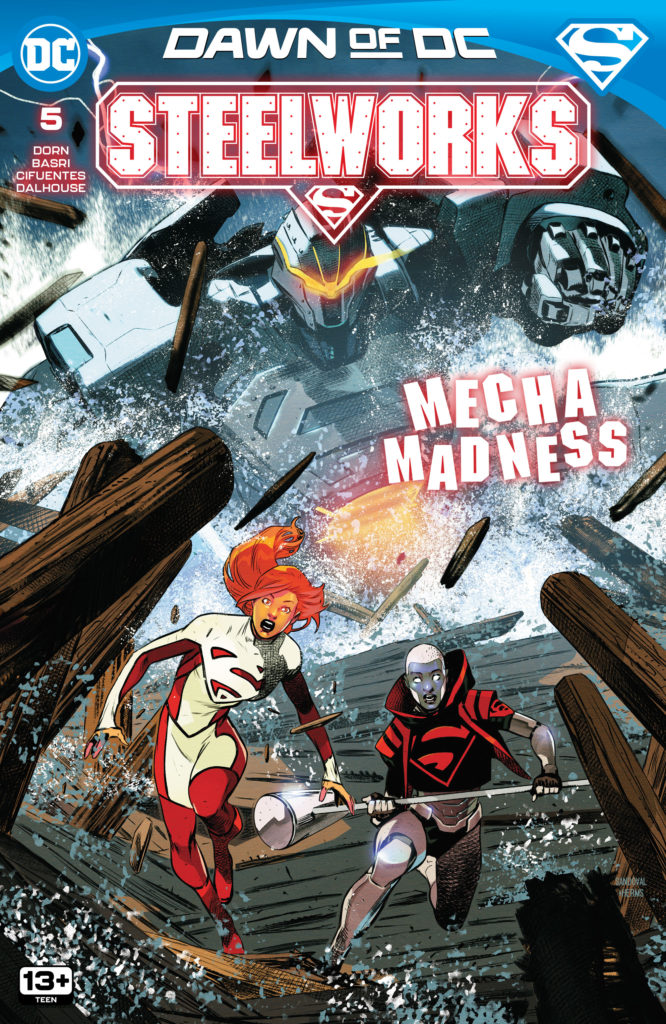 Steelworks #5
DC Comics
Written by Michael Dorn
Art by Sami Basri and Vicente Cifuentes
Colors by Andrew Dalhouse
Letters by Rob Leigh
The Rundown: Walker begins the next phase of his plan and John questions continuing his life as a hero.
After stealing tech from Steelworks, Walker uses it for the next part of his plan. At the same time, John contemplates his place as a hero and has an intense moment with Lana about their future.
When Walker launches a giant robot designed to bring attention to Steelworks, the Superman family launches into action to stop it. Unfortunately, it uses tech that can hurt them and John is forced to suit up to bring it down.
The Story: Dorn creates an intense and exciting story that takes the time to grow and evolve the character of John Henry Irons while also giving great moments with him and Lana. I really loved the backstory in the issue as well as the contemplative moments John has that show his evolving and changing thoughts on being a hero. The action is amazing as well and I loved the build up to the final moments and how excited I am to see what happens next.
The Art: Basri and Cifuentes deliver fantastic art throughout the issue. The action is visually impressive and captures the thrilling tone of the story.