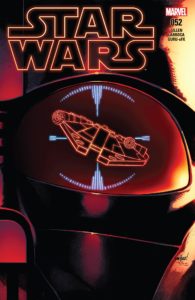 Star Wars #52
Marvel Comics
Written by Kieron Gillen
Art by Salvador Larroca
Colors by Guru-Efx
Letters by Clayton Cowles
Han Solo is one of the best pilots in the galaxy. He has maneuvered himself in between the battle between the Rebel Fleet and the Empire and is on a dangerous mission to try and open the hanger doors on the disabled cruisers so that the pilots can launch. All he has to do is maneuver the Falcon close enough to hangers to trigger the fail safe and the fighters are home free. Unfortunately, the Falcon is being chased by THE best pilot in the galaxy Darth Vader.
I will admit that it is fun seeing Han nervous as he puts the Falcon through her paces trying to avoid Vader. I also enjoyed the fact that this is Vader's revenge for his humiliation at the Battle of Yavin. It shows some great symmetry to the movie these events immediately follow. When another flaw is found in the sabotage, Han comes up with a daring plan to try and get word to the Rebel pilots. A plan that includes an escape pod, Threepio and the hull of a disabled freighter. As the Rebel pilots, led by Luke Skywalker get some information that they were waiting for, their attempt to turn the tide of the battle begins.
There are some great call backs in this issue, especially from recent events both in the saga films and in the growing Star Wars Story films. I like that Gillen has the Rebels, including Luke invoke the name of Jyn Erso as a Rebel hero when they attempt to escape the locked cargo bay. It adds a nice element to the overall story and keeps the continuity without being heavy-handed pandering to the reader.
Larroca's art is the shining star of this issue. Not only is it beautiful, but he is able to convey some great tension and drama in his panel selection. Everything felt like a great cinema dogfight in the moments between Han and Vader and there is a moment that made me cringe as the Falcon comes dangerously close to another ship. Only really good art could illicit that kind of reaction. Can't wait to see what happens next in this story.