Star Trek #13
IDW Publishing
Written by Collin Kelly and Jackson Lanzing
Art by Marcus To
Colors by Lee Lougheridge
Letters by Clayton Cowles
The Rundown: As Sisko contemplates his future, Starfleet calls him in for another mission.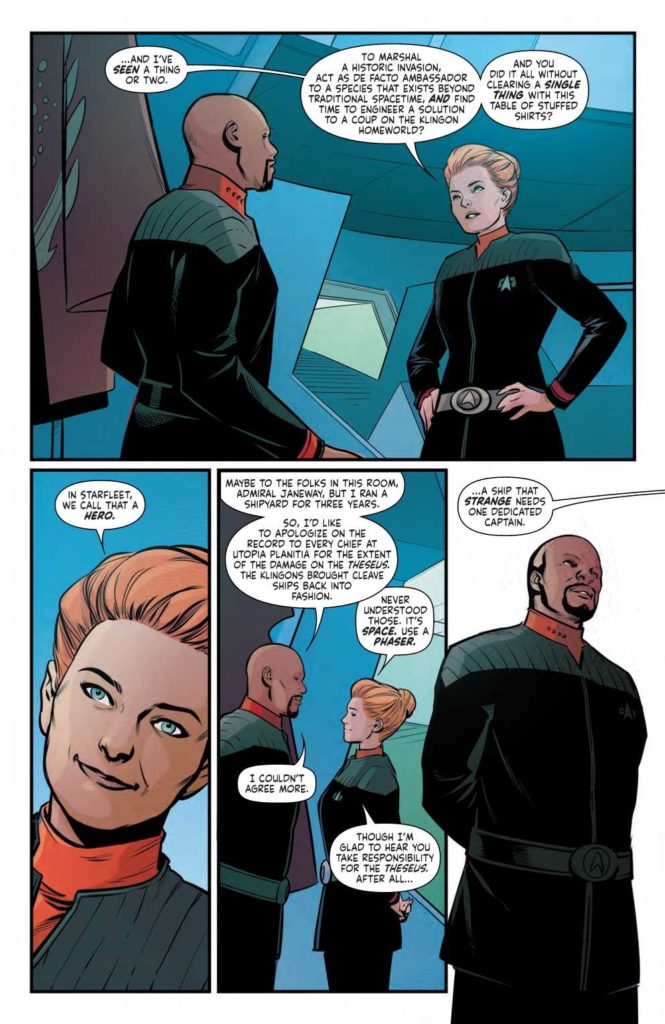 In the aftermath of the failed plot by Kahless, Sisko and the crew of the Theseus return to Earth. While Sisko is hailed as a hero, he still thinks of what his future might be. His thoughts are interrupted by a meeting with a friend that will set him on a new mission with the Theseus to a dangerous part of the alpha quadrant.
The rest of the crew contemplates their own places in Starfleet and family issues before they are called back into action. Action that will take them to the Tzenkethi system to potentially stop another war and meet with an operative who has a very familiar face.
The Story: Kelly and Lanzing craft another arc that immediately drew me in as a Star Trek fan and made me giddy with all of the deep cuts and exciting reveals. An impressive story from start to finish that combines great action, adventure, mystery and emotion. I continue to enjoy both the old favorites and new faces in this crew and look forward to seeing where this adventure leads them.
The Art: To delivers impressive art throughout the issue. The imagery and visual style are perfect for Star Trek and the art brings the characters and environments to vibrant and engaging life.