It's officially spooky season and fans of the horror and scary genre are looking for things to get them in the mood for fears and frights. Fans of the horror genre remember the films and television shows that gave them goosebumps and jump scares and yearn to feel those things again this Halloween season. But what do you do when you're not alone in your home anymore. I'm not talking about things that go bump in the night (well, sometimes they do). I'm talking about things that are even scarier, KIDS!!!!
All joking aside, Halloween is a time for the whole family and when you have young ones with you during the season, you want to be able to find movies to enjoy as a family that keep with the theme. So I've combed through my extensive collection of frightening fare to come up with ten scary movies you can enjoy with you little demons this year.
Ghostbusters 1984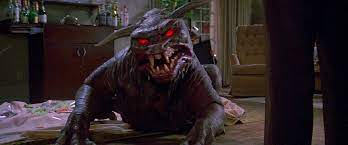 Directed by Ivan Reitman who co-wrote the script with leads Harold Ramis and Dan Aykroyd, Ghostbusters is more of a comedy than a scary film. A movie about a group of failing scientists who open a business to exterminate or "bust" ghosts in New York continues to be a fun and inventive premise that has something for everyone in the family including action, thrills and fantastic one-liners from Bill Murray and company. The ghosts in the film are not particularly terrifying, but there are some fun jump scares throughout the movie that everyone can enjoy. Even though the film came out in 1984, it still holds up today with its inventive story and great action.
Beetlejuice 1988
Tim Burton's classic is another horror comedy that has more laughs than scares in it, but there are several disturbing visuals that will entertain horror fans of all ages. Recently deceased couple Barbara and Allen Maitland, played by Alec Baldwin and Geena Davis) find the dream home they are stuck in purchased by one of the most terrifying things of the 80's, YUPPIES!!!! While trying to find a way to scare them away, they find themselves entwined with a crass ghost called Beetlejuice (Michael Keaton) who is willing to help them, for a price. Add in every goth lover's dream girl Winona Ryder as Lydia and you have a recipe for a fun, funny and visually disturbing piece of scary cinema.
The Nightmare Before Christmas 1993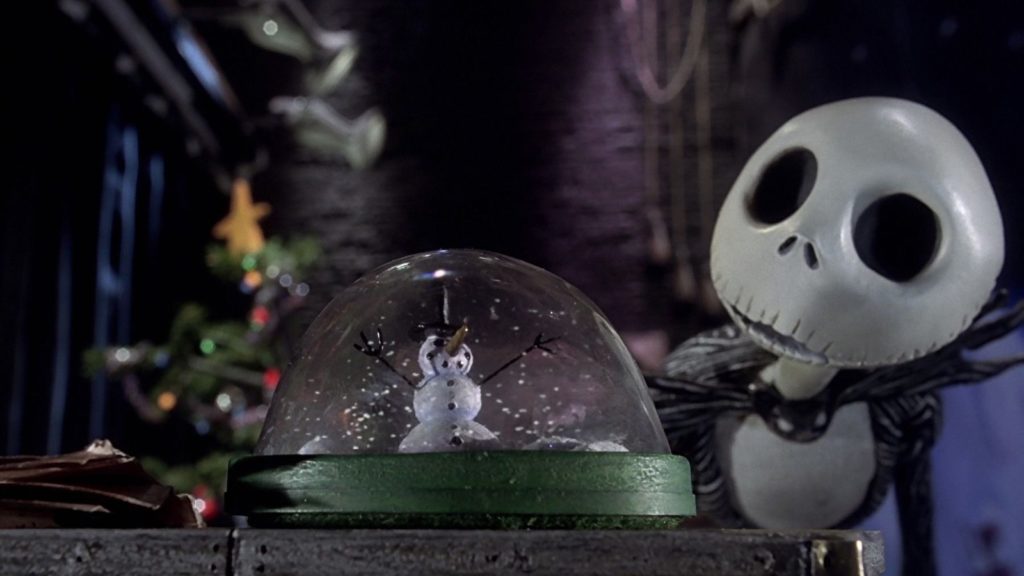 I know it's Halloween season and the movie has 'Christmas' in the title, but Henry Selick's stop-motion animated classic is a pure Halloween movie from start to finish. The Pumpkin King of Halloweentown Jack Skellington (Chris Sarandon/Danny Elfman) becomes disillusioned with his job of bringing Halloween to the world every year and wants to do something new. After discovering the wonders of Christmastown, Jack enlists the help of his subjects to take over the holiday and give it their own twist. The story has some great, spooky visuals throughout, engaging characters and a fantastic soundtrack while also giving kids a great message about inspiration and creativity.
ParaNorman 2012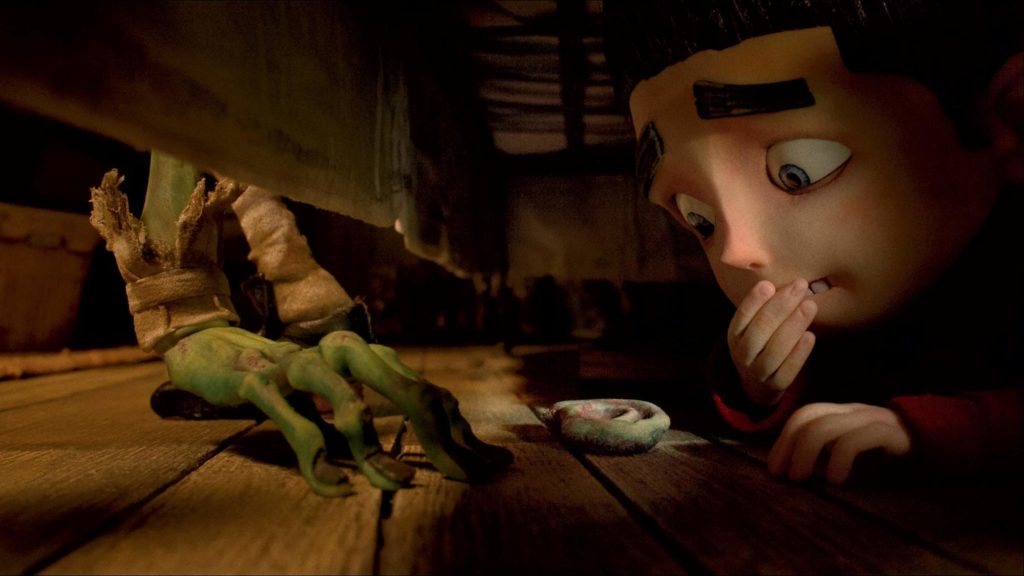 Another fantastic stop-motion animated feature that both kids and adults will enjoy, directors Sam Fell and Chris Butler helm the story of Norman Babcock, a boy with the ability to speak to the dead. While his gifts isolate him from most of the people of the town, Norman is never really alone as he speaks to his dead grandmother and others. Filled with ghosts, witches, zombies and more, ParaNorman has not only great thrills for scary movie fans, but also a great message for the kids about acceptance.
The Witches 1990
Based on the book by Roald Dahl, director Nicholas Roeg's big screen adaptation has great moments of tension, thrills, scares and David Cronenberg style body horror. Luke is a young boy who recently lost his parents and now lives with his grandmother in England. When the pair take a trip to a seaside hotel for vacation, they find themselves among a convention of Witches where the Grand High Witch has developed a formula to transform all children into mice. Angelica Houston is brilliantly scary as the Grand High Witch and the transformation scenes with Luke and his friend Bruno being turned into mice is visually disturbing in the best way. The Witches is more dark fantasy than horror, but there are enough scares throughout the film to make it suitable for the family to enjoy together.
The Monster Squad 1987
Prolific horror writer/director Fred Dekker (House, Night of the Creeps, The Predator) makes his first foray into family-friendly fare with a horror twist with The Monster Squad. Combining elements of The Goonies, Fright Night and more, The Monster Squad is about a group of horror film loving kids who find themselves facing off against the real Count Dracula and his henchmen including Wolfman ("Wolfman's Got Nards!"), the Gillman, the Mummy as well as Frankenstein's monster. Kids versus classic movie monsters is a great recipe for Halloween family fun.
Monster House 2006
Directed by Gil Keenan, Monster House is the only computer animated scary film on this list. The movie takes place during the Halloween season of 1983 and includes some familiar and universal tropes that get turned on their ears. Monster House is about a young kid named DJ and his friends who actively avoid the neighborhood haunted house and its owner Mr. Nebbercracker who is mean to everyone in the neighborhood, especially kids. He makes sure everyone stays away from his house and keeps any toys or things that land on his lawn. What no one except DJ and his friends knows is that the house itself comes to life and eats consumes anyone that comes near it. There are some great scares throughout the movie with the house itself and there is a great twist regarding the origin of the house and Nebbercracker's connection to it that contains an interesting and compelling message for kids.
Poltergeist 1982

Co-written by Steve Spielberg and Tobe Hooper who also directed the film, Poltergeist is a film that takes everything about the 80's nuclear family and turns it on its head by throwing them into a nightmare of hauntings, abductions and scares. The film features the Freeling family who have moved into a new suburban develop and begin to experience supernatural events that culminate in not only the spectral abduction of one of the kids and the secrets buried beneath the home. This movie can be incredibly intense and may not be for everyone, but it's a fantastic scare to watch with others.
Coraline 2009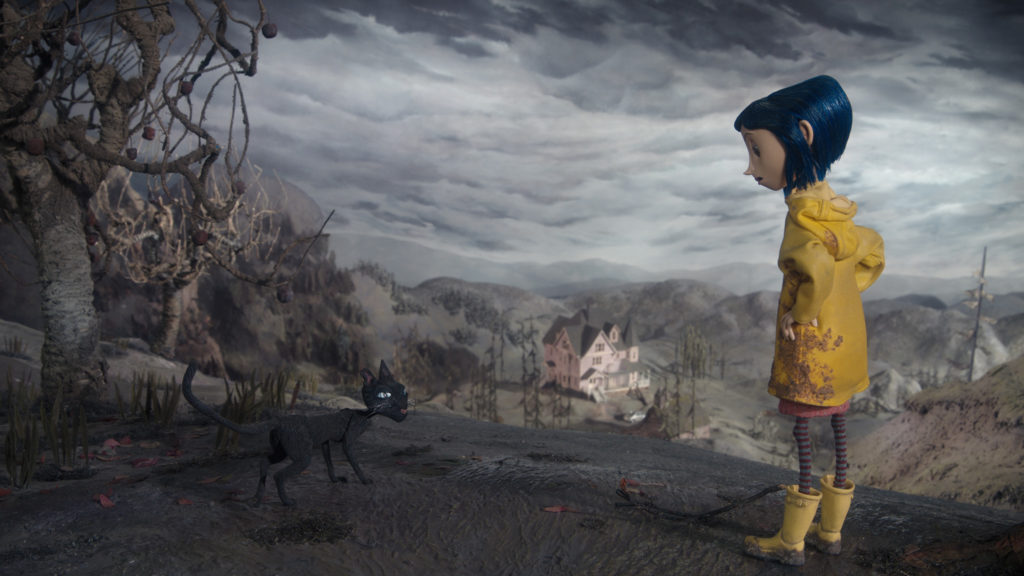 Another stop-motion animated feature from Nightmare Before Christmas director Henry Selick and based on a novel by one of my favorite writers Neil Gaiman (The Sandman, American Gods, Good Omens), Coraline tells the story of a young girl who moves into a new home with her parents and discovers a seemingly ideal alternate reality populated with funny, charming and nicer versions of the people in her real life. That is until she discovers the dark secrets at the heart of this other world and what happened to others who ventured into it. There is some benign, dark fantasy imagery throughout the film, but the biggest scares come from the "Other Mother" played by Teri Hatcher. If you're a fan of Nightmare Before Christmas and Selick's work, this is definitely one of his best and creepy enough to enjoy with the kids this Halloween season.
Gremlins 1984
Another family horror film set during Christmas, Joe Dante (The Howling) directs what many consider more a dark comedy than a horror film, but I disagree. The film contains everything from jump scares and body horror to literal face melting and bodies exploding. There is some dark imagery throughout a film that centers on a teenager getting an exotic pet for Christmas and not knowing that its species can turn into hedonistic, murderous monsters. It's an effective Halloween scare fest for the family as well as being a great pallet cleanser from all the ultra positive Christmas fare inundating the screen.
I understand not all of these films are for every family and I implore you to be discerning about what you allow your families to watch during Halloween. There's almost nothing worse than having to deal with a kid having nightmares, but there's also nothing better than enjoying some curated scares with your kids to. So let me know what you think of the list and what are some of your families favorite scary movies?
Let me know in the comments and Happy Halloween.