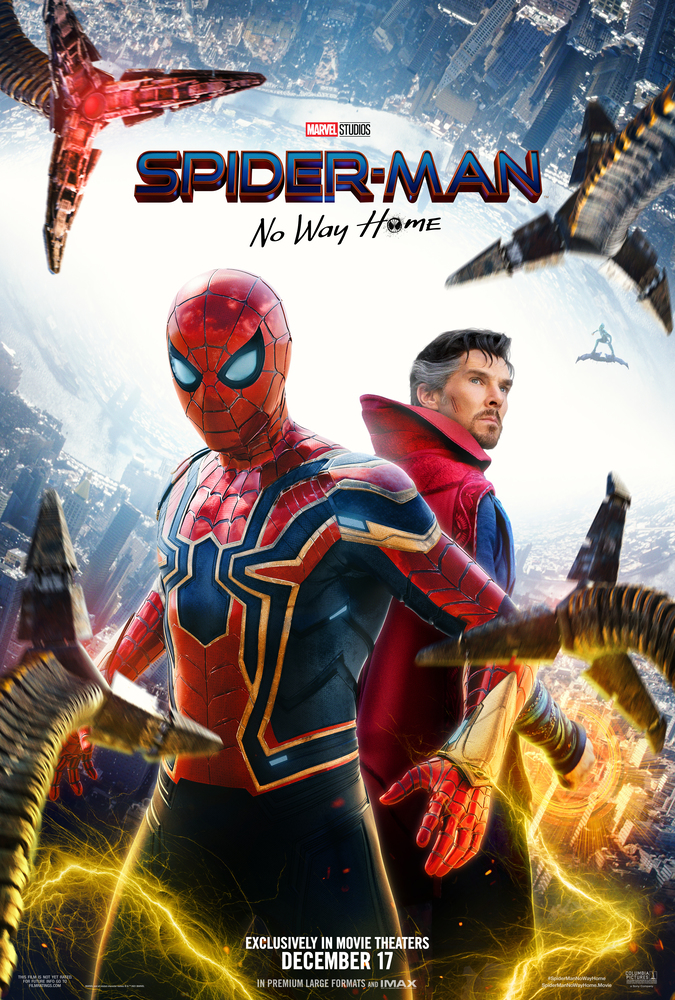 Spider-Man: No Way Home
Columbia Pictures/Marvel Studios
Written by Chris McKenna and Erik Sommers
Directed by Jon Watts
Starring Tom Holland, Zendaya, Benedict Cumberbatch, Jacob Batalon, Jon Favreau, Jamie Foxx, Willem Dafoe, Alfred Molina, Benedict Wong, Tony Revolori and Marisa Tomei
Rated PG-13
For the first time in the cinematic history of Spider-Man, our friendly neighborhood hero's identity is revealed, bringing his Super Hero responsibilities into conflict with his normal life and putting those he cares about most at risk. When he enlists Doctor Strange's help to restore his secret, the spell tears a hole in their world, releasing the most powerful villains who've ever fought a Spider-Man in any universe. Now, Peter will have to overcome his greatest challenge yet, which will not only forever alter his own future but the future of the Multiverse.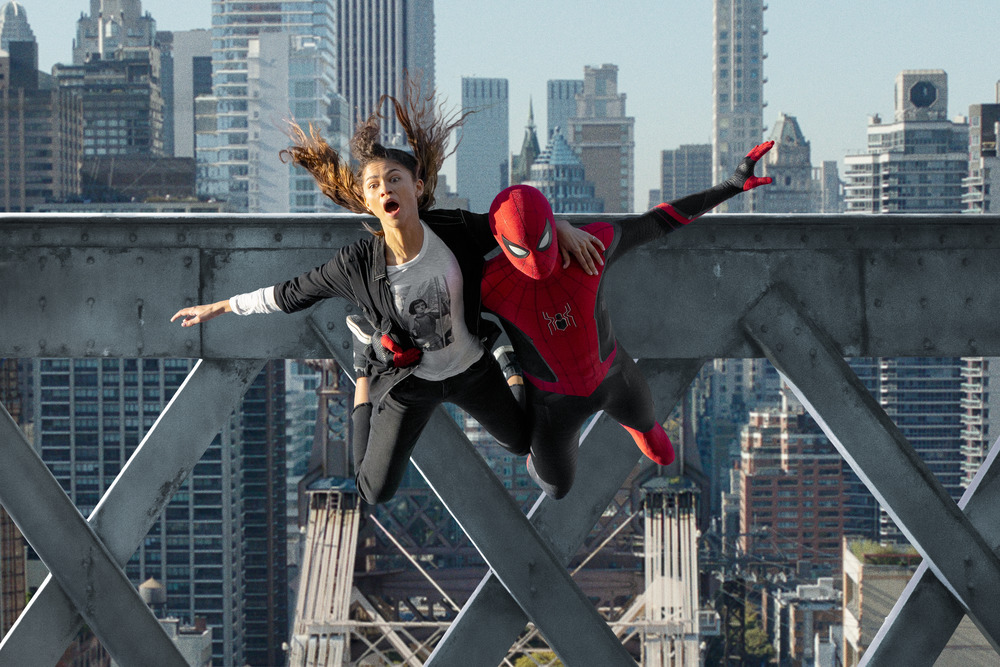 First and foremost, I will do my level best to keep spoilers out of my review. As much as I want to talk about every aspect of this film, every Easter egg, surprise and fanboy moment found in the film, I would rather people see this movie themselves than spoil those moments worth experiencing. That being said, there is a lot to unpack in this movie and many of those things speak to bigger themes that the film is trying to explore.
One of the concerns that I had with the film was that this wasn't going to be Peter's story. Both Homecoming and Far From Home (while incredibly fun and entertaining films) suffered from a need to remind viewers that this Spidey was part of the MCU and they did that too much with having Iron Man in the first film and Tony Stark's legacy as the main plot point of the second. They felt more like Iron Man spin-off films than Spider-Man adventures. With Doctor Strange being a big part of this film, I worried that Sony and Marvel were just substituting one mentor for another.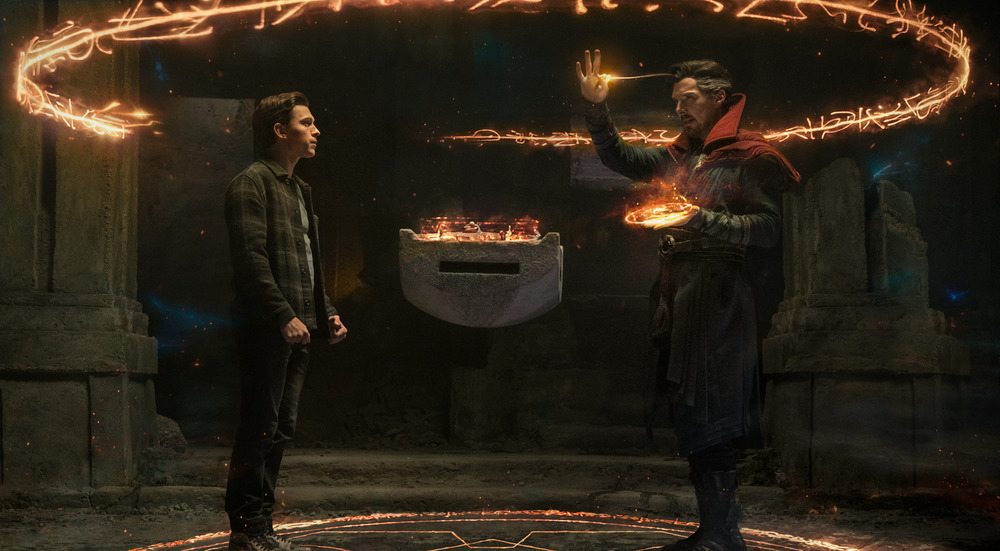 Thankfully, I was wrong.
This is Peter's story and it is definitely a more mature one because it puts him in the position of having to really choose between his life as Peter Parker and his responsibility as Spider-Man. It isn't a game anymore and his charm is not going to keep him from the consequences of being a superhero. The world knowing his secret identity affects not just him, but also his friends and family. Tom Holland does a great job showing the angst and concern the character is feeling as his actions have direct consequences on the people around him.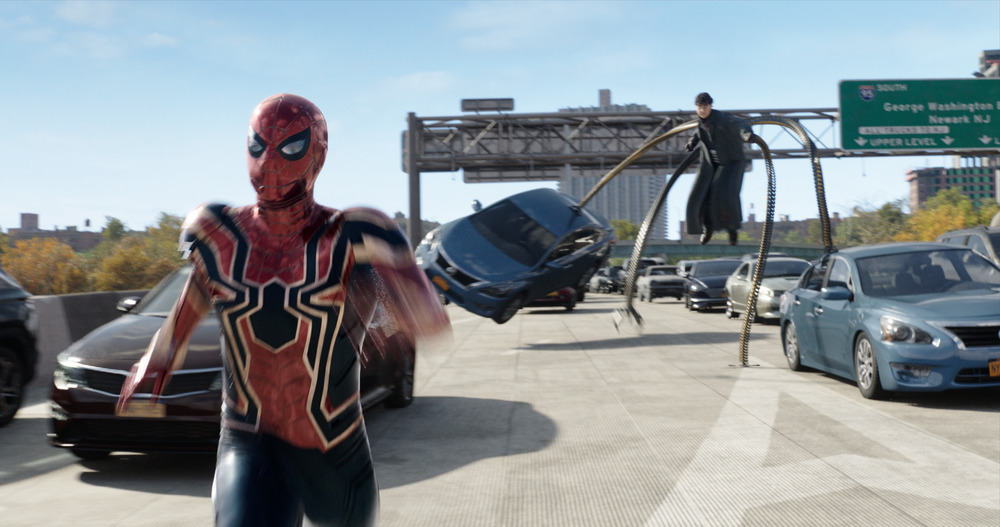 Those consequences lead to more as he seeks out help from Strange to make the world forget his identity. The scene between the two of them as Strange begins the spell has great gravity as he tries to control the spell and ultimately causes it to fail in a way that brings villains from other universes into his world. Those villains are directly tied to Spider-Man and his need to both stop them and protect his friends leads to both conflict and tragedy that forces the character to grow and evolve.
All of the performances are amazing especially from the villains. Willem Dafoe doesn't skip a beat as Norman Orborne/Green Goblin. He is both menacing and tragic and delivers lines that bring Peter's biggest conflict into focus. Alfred Molina is great as Otto Octavius/Doctor Octopus and he continues the character's arc from Raimi's film as both menace and mentor. Jamie Foxx's Max Dillon/Electro has one of the best arcs in the film as his character evolves from the nerdy character he portrayed in The Amazing Spider-Man 2 to a calculating villain worthy of being feared.
Besides the great performances by everyone in the cast, the film is visually thrilling from start to finish. There are some fantastic action sequences throughout and Watts beautifully captures both the fluidity of Spider-Man's movement and also the psychedelic aspects of Strange's magic. There are moments that thrill throughout and some that had both myself and the audience gasping with excitement.
Ultimately, No Way Home is a love letter to both the fans of Spider-Man as a character and fans of the cinematic history of the character. The film pulls out all the stops to deliver a brilliant close to several plot lines from across multiple movies and sets up its characters for new adventures to come with a more mature Peter Parker/Spider-Man dealing with a brand new world. It's fun, flashy, bittersweet and filled with heart. It is definitely a film that should be experienced in theaters because its thrills and surprises are electrifying with an audience.
Editor's Note: This is a Marvel movie so there is definitely a mid-credit scene that links the world Sony is building with its Spider-Man characters to Marvel's Spidey. Marvel Studios also does something completely unexpected with the post credit scene. Something that could ultimately change how movie announcements and trailers are released going forward.