The next big film from Disney/Pixar is guaranteed to delight audiences with a unique vision as well as unforgettable characters.
The Pixar film Coco will take audiences on a magical journey through the land of the dead filled with astounding visuals and moments filled with music.
When aspiring musician Miguel (voice of Anthony Gonzalez) ends up in the Land of the Dead in Disney•Pixar's "Coco," his family takes him to the Department of Family Reunions where a busy clerk (voice of Gabriel Iglesias) informs him that he's cursed. To return to the Land of the Living, Miguel will need a magical marigold petal and the blessing of a family member—but, according to the clerk, the family member can include any condition she likes—even forbidding music forever. Directed by Lee Unkrich ("Toy Story 3"), co-directed by Adrian Molina (story artist "Monsters University") and produced by Darla K. Anderson ("Toy Story 3"), Disney•Pixar's "Coco" opens in U.S. theaters on Nov. 22, 2017.
Disney also released a new poster for the upcoming film along with an official synopsis.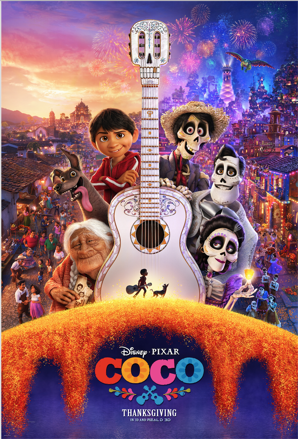 Despite his family's baffling generations-old ban on music, Miguel (voice of newcomer Anthony Gonzalez) dreams of becoming an accomplished musician like his idol, Ernesto de la Cruz (voice of Benjamin Bratt). Desperate to prove his talent, Miguel finds himself in the stunning and colorful Land of the Dead following a mysterious chain of events. Along the way, he meets charming trickster Hector (voice of Gael García Bernal), and together, they set off on an extraordinary journey to unlock the real story behind Miguel's family history.
Follow me on Twitter @superpoweredfan.