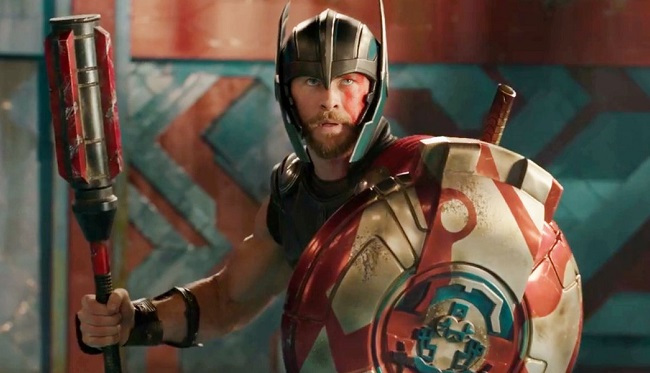 A brand new Thor: Ragnarok trailer was anticipated at this year's San Diego Comic Con and Marvel did not dissapoint.
The new trailer for the film that opens this November showcases the cast of the third Thor film including the new characters added to the roster including Hela and Valkyrie. It looks like the next Thor movie will focus on both sci-fi and comedy. There is a distict Guardians of the Galaxy feel to the movie, but it doesn't feel derivative. Hemsworth shows some incredible comedic timing in the footage shown in Hall H.
Thor: Ragnarok stars Chris Hemsworth as the God of Thunder, Tom Hiddleston as Loki, Mark Ruffalo as Bruce Banner/ The Hulk, Jeff Goldblum as the Grandmaster, Tessa Thomson as Valkyrie, Benedict Cumberbatch as Doctor Strange and Cate Blanchett as Hela.
Imprisoned on the other side of the universe, the mighty Thor (Chris Hemsworth) finds himself in a deadly gladiatorial contest that pits him against the Hulk (Mark Ruffalo), his former ally and fellow Avenger. Thor's quest for survival leads him in a race against time to prevent the all-powerful Hela (Cate Blanchett) from destroying his home world and the Asgardian civilization.
Thor: Ragnarok opens in theaters November 3, 2017.
Follow me on Twitter @superpoweredfan.