Lady Baltimore: The Witch Queens #4
Dark Horse Comics
Written by Mike Mignola and Christopher Golden
Art by Bridgit Connell
Colors by Michelle Madsen
Letters by Clem Robins

The Rundown: Lady Baltimore and her companions deal with an invasion, while the company at her estate handle a disruptive captive.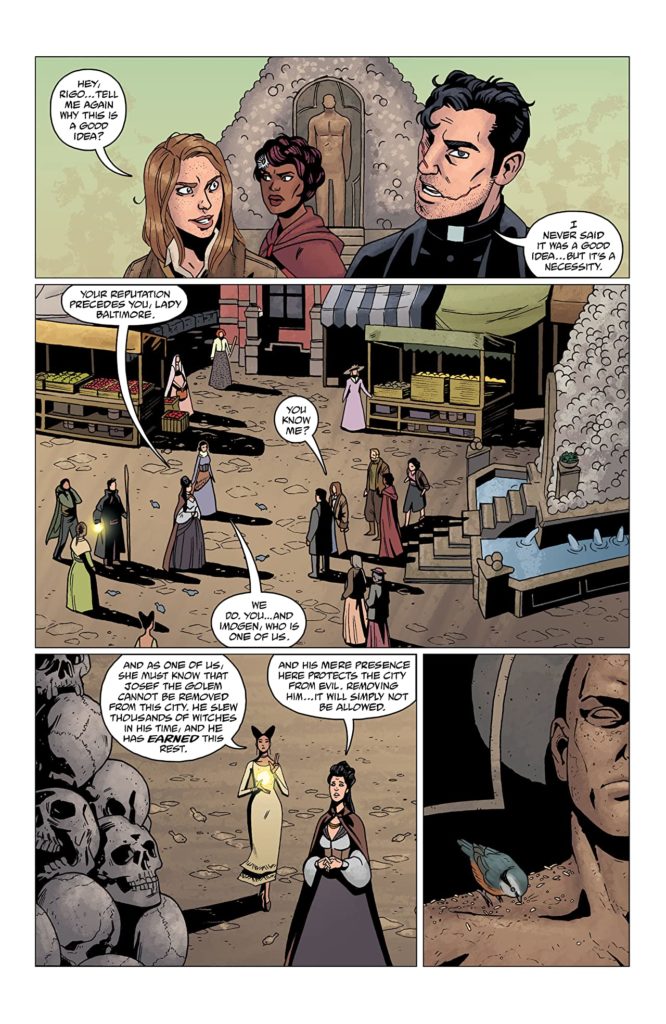 Sophia and the crew meet with a group of light witches and explain their immediate plans. As they travel away from Cesky Krumlov, the Baltimore crew find themselves caught in a deadly trap. Meanwhile, the light witches fight two powerful groups of enemies within the small town. Elsewhere, the team at The Baltimore Estate face powerful witches determined to free a dangerous foe. At an impactful moment, a surprising revelation occurs.

The Story: The penultimate episode in this series is filled with action and surprising reveals. This chapter is heavy in both content and battle. The stakes are extremely high and no one is safe from immediate danger. I like how each action taken by the characters has an immediate consequence. As well as the quick way that the tables can turn for better or for worse. I am very interested in how the story will end for both heroes and villains alike.

The Art: Connell's detailed drawings are highlighted by a color palate heavy with green tones. Character expression and form help to create an emotional connection to this tale. I found the artwork in this issue to be very engaging and interesting.