Justice Society of America #2
DC Comics
Written by Geoff Johns
Art by Mikel Janin, Jerry Ordway and Scott Kolins
Colors by Jordie Bellaire and John Kalisz
Letters by Rob Leigh
The Rundown: To avoid a killer and save her friends, Huntress takes a dangerous trip through time.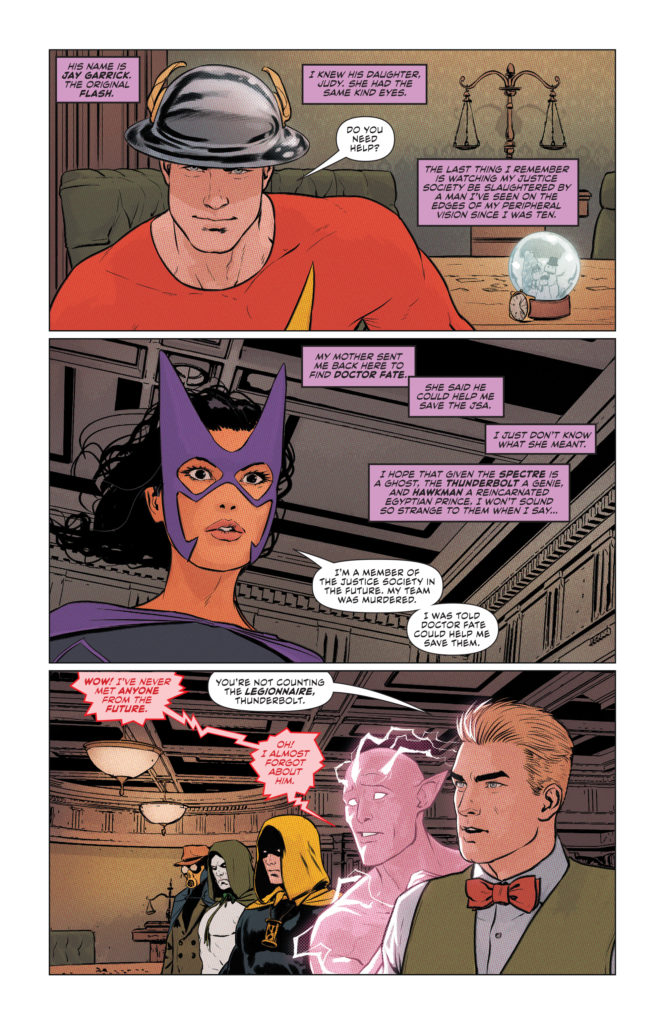 After barely escaping with her life, Huntress wakes up in 1940 in the headquarters of the Justice Society of America. After telling them her story she tells Doctor Fate that he is the only one that can help her. After trying to see her timeline, Fate finds himself transported to Slaughter Swamp a year later and a confrontation with Grundy before being transported back. A trip that will reveal some new and strange things.
As he tries to see the threat Helena is talking about, Huntress relives her visions of se4eing the man pursuing her through time as well as the final fight that killed everyone she cared about. As she continues to search for answers, another trip through time will bring her face to face with another Fate and anew team of heroes.
The Story: An entertaining follow up issue with some great moments within it. I liked the journey Fate takes in the issue and how it adds to the mystery. Huntress' quest has a great level of tension to it and the story is engaging enough in its premise and mystery to make me interested in seeing where it goes next.
The Art: All three artists deliver fantastic art in the issue. I love the different styles and how the not only complement each other, but also the period the story takes place in.