Justice League Infinity #1
DC Comics
Written by JM DeMatteis and James Tucker
Art by Ethen Beavers
Colors by Nick Filardi
Letters by Tom Napolitano
The Rundown: Two beings in search of meaning in their lives will find their paths linked to the Justice League.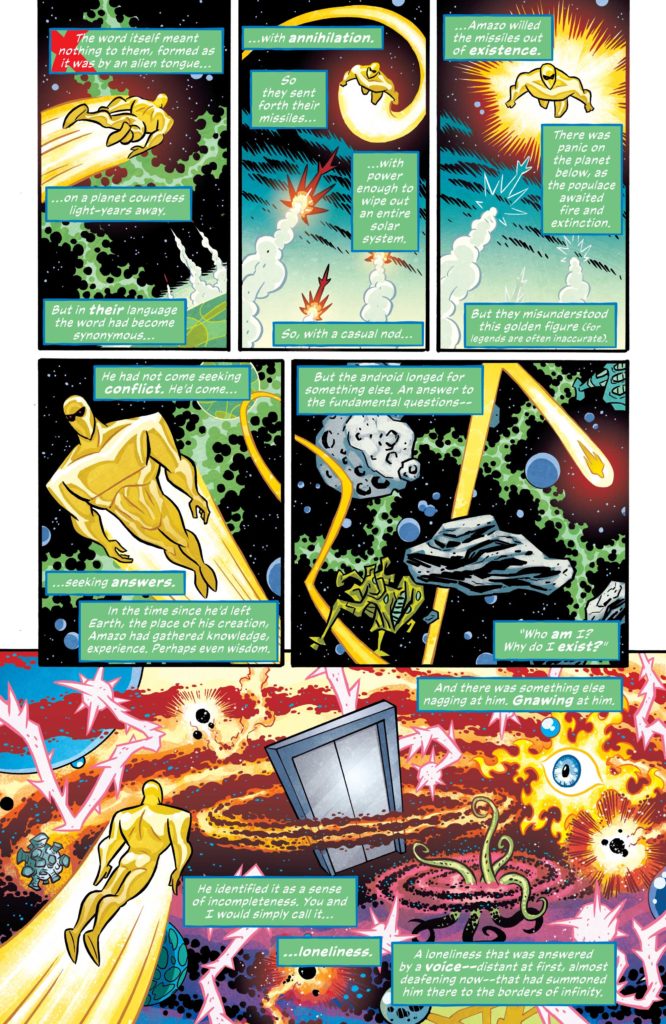 Martian Manhunter has turned away from the life of a superhero and roams the Earth looking for meaning in his own life while learning about humanity. At the same time, Amazo roams the stars searching for meaning to its own existence. As they both ask themselves existential questions, the Justice league calls in Flash for something important.
As Manhunter decides whether or not to return to the world as his true self, an incursion from Granny Goodness breaks up the League's celebration and a battle begins that will only get bigger when Kalibak enters with is own forces. As the League battles its external threats, Amazo finds itself battling a different foe. A battle that will have a ripple effect across all of existence.
The Story: DeMatteis and Tucker bring readers back into the world of Justice League Unlimited in a big way and the story is both compelling and comforting to fans of that universe. All of the story beats are consistent with the animated series and expand on the character relationships in a way that is engaging. The plot and interpersonal dynamics are great and both Manhunter and Amazo's journeys make me interested in reading more.
The Art: Beavers does a great job of keeping the Bruce Timm aesthetic to the characters and world, but the story does have its own unique look that is great to experience.