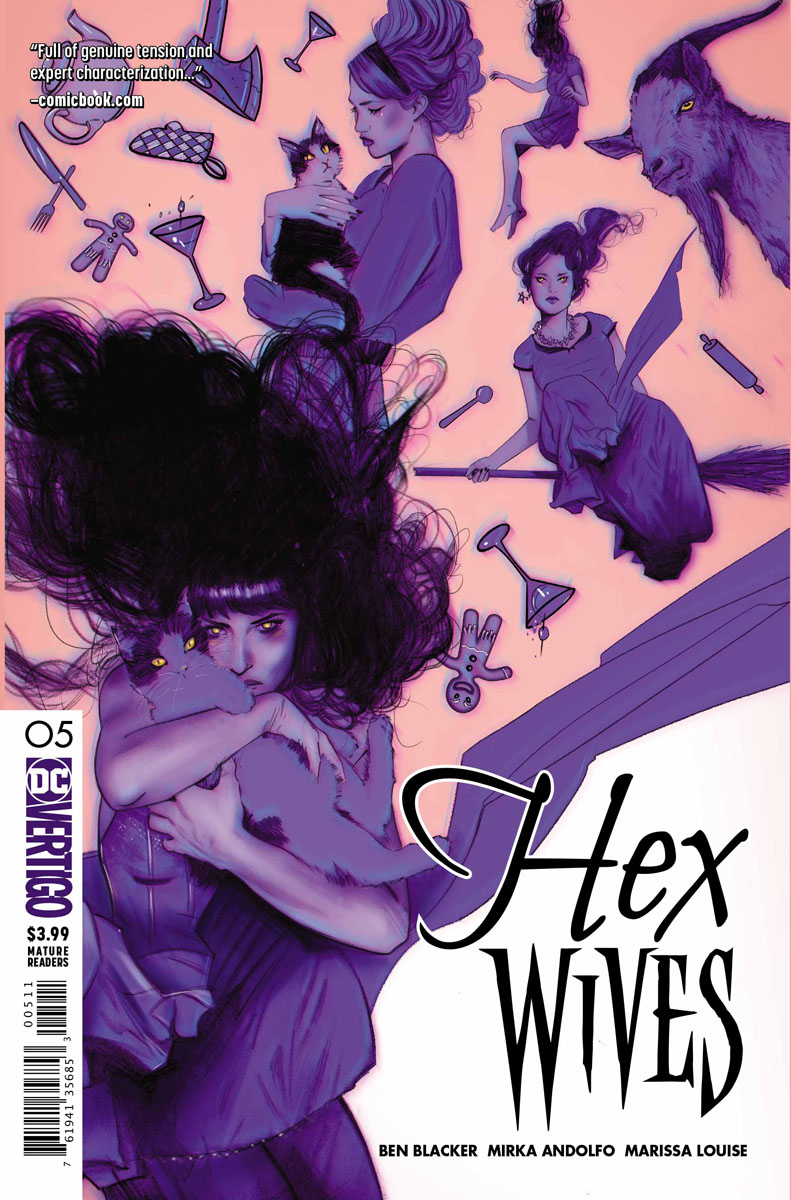 Hex Wives #5
DC Vertigo Comics
Written by Ben Blacker
Art by Mirka Andolfo
Colors by Marissa Louise
Letters by Josh Reed
The moment of truth for both the wives and their husbands has finally arrives and it is going to be explosive.
Aaron's plans continue to unravel as Isadora some of the other wives begin to test both their new powers and their limits in secret. When Izzy tries to convince Nadiya that what she's experiencing is true, Aaron bursts into the house in a panic.
In typical sitcom fashion, Aaron's boss August Kelly is coming over for dinner that night and Izzy needs to whip up an entire dinner party in a few hours. Seeing an opportunity, Izzy tells Nadiya that she'll see her that night to discuss their powers.
Aaron is starting to worry that his plan is falling apart so everything at this dinner party needs to go perfectly in order to assure Kelly that he is in complete control. Unfortunately, when the rest of the wives arrive, the secrets they have been hiding begin to come out to each other. As Kelly and the rest of the men drink and discuss the previous failures in this experiment, Isadora introduces Nadiya to her powers as Jun discovers her own.
As the ladies discover what they can do, Aaron, Kelly and the rest of the men discover what true power really is.
This is the moment I have been waiting for since this series began and I was not disappointed. Ben Blacker builds the tension in this story to an entertaining and satisfying crescendo as the themes of power and control play out between the husbands and their wives. The dialogue is electric and full of emotion and discovery. The pace of the story doesn't waste any time and the plot is sublime. The end of this issue opens an entire world of possibilities and I can't wait to see what happens next.
Mirka Andolfo's art is absolutely gorgeous throughout this issue and complements the story perfectly. There are some amazingly detailed panels in this issue and it looks like the plot is setting things up for Andolfo to push the limits going forward.