Gargoyles: Dark Ages #4
Dynamite Entertainment
Written by Greg Weisman
Art by Drew Moss
Colors by Martina Pignedoli
Letters by Jeff Eckleberry
The Rundown: A troupe of players arrive to spin tales to human and gargoyle alike.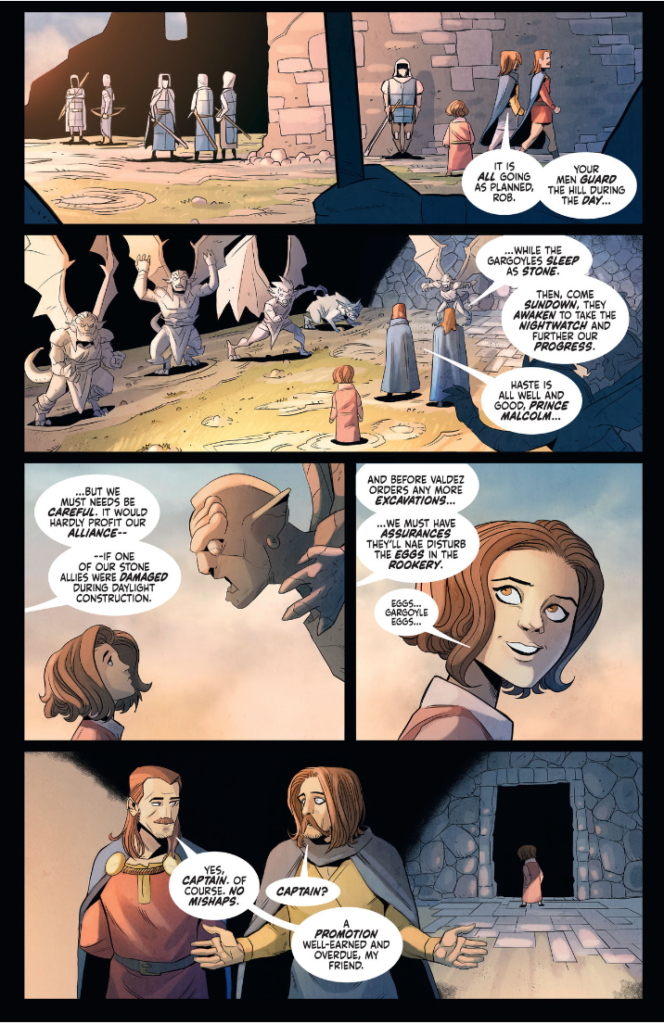 Castle Wyvern is under construction and the alliance between the gargoyle clan and the humans is being forged at the same time. The young daughter of Malcolm decides to learn more about the gargoyles and befriend them by promising to guard the rookery.
When a troupe of players enter the area, they come with a production for the gathered humans and gargoyles along with stories. At the same time, Demona begins her first lessons in magic.
The Story: I like the quieter tone to this story after the last arc and its relentless action. The story focuses on the tenuous relationship between the humans and gargoyles and Weisman does a fantastic job of weaving in moments of budding friendship as well as the suspicion that would plague the alliance to its end. A thoroughly enjoyable and engaging story that makes me want to read more.
The Art: Moss offers some great art throughout the issue. The story is more character focused and we get the sense of those character relationships through the art.