Golden Globe winner Emily Blunt graces the cover of the June 16th issue of Entertainment Weekly as the world's most famous nanny Mary Poppins from the upcoming Disney feature Mary Poppins Returns.
Blunt will be taking over the role originated on screen by Julie Andrews. Joining Blunt will be Lin Manuel Miranda as Jack the Lamplighter.
The story involves Mary (Blunt) finding her way back into the lives of the Banks family, specifically the older Banks children and their kids. Playing the older versions of Jane and Michael Banks are Emily Mortimer (The Newsroom) and Ben Whishaw (Skyfall). The film also stars Meryl Streep, Angela Lansbury and Dick Van Dyke.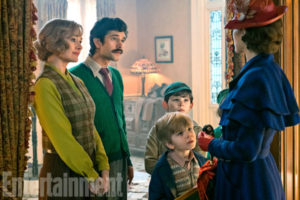 Mary Poppins Returns is directed by Rob Marshall (Into the Woods) from a script by David Magee (Life of Pi) with an original soundtrack with music by Scott Wittman (Hairspray) and Marc Shaiman (The American President).
Mary Poppins Returns flies into theaters Christmas Day 2018.
@superpoweredfan on Twitter