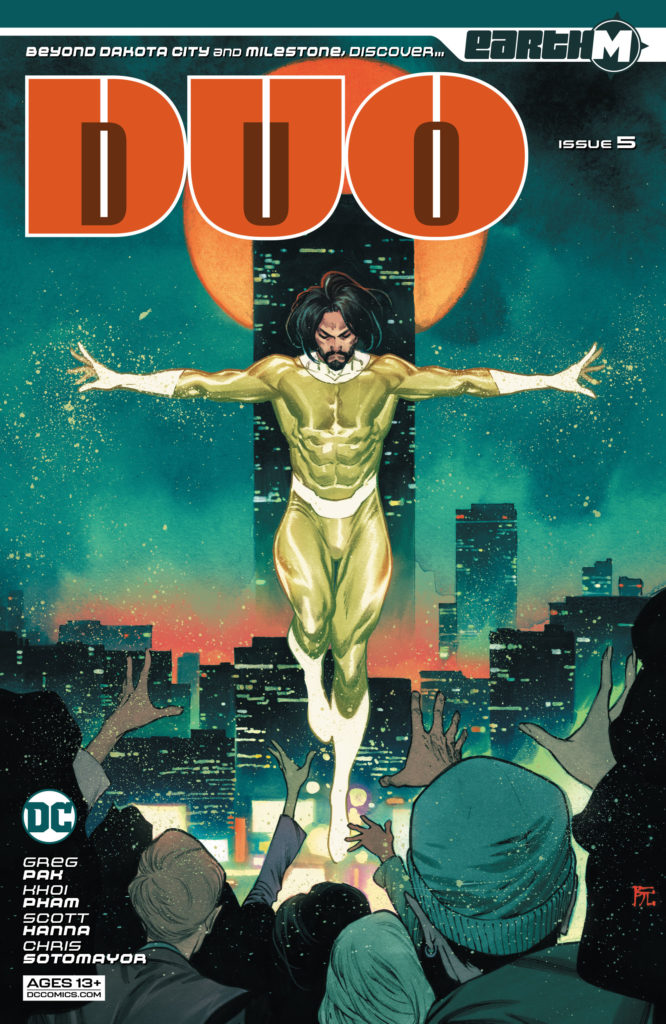 Duo #5
DC Comics
Written by Greg Pak
Art by Khoi Pham
Inks by Scott Hanna
Colors by Chris Sotomayor
Letters by Janice Chiang

The Rundown: Duo makes their presence known publicly, then confront enemies in a deadly showdown.
The story opens with a flashback to a time when David and Kelly worked together on the nanobite project and discussed their hopes for the future. In the present, Duo takes to the streets with a group of weaponized androids in the aftermath of a previous conflict. Soon, Duo meets a concerned Detective Truco, and find themselves in an altercation with law enforcement. Afterwards, they interact with the public before having a surprising showdown with both Dr. Tinker and the Immutables.

The Story: The penultimate chapter of this limited series is a high-octane adventure that not only showcases the extreme power of the Duo but delves into their humanitarian desires. It is also fascinating to see Kelly fulfill her greatest wish. Her need to help people is both heartwarming and frightening. Although it appears to come from good intentions, her method of wielding power is rightfully likened to "playing God." And although I am not a fan of Dr. Tinker, I agree with his wariness of Duo's abilities. Finally, I am curious to see how this series will wrap up. With one issue left, there is a lot of ground to cover and I am hopeful for a satisfying conclusion to this impressive work.

The Art: This good-looking issue is crafted in a modern, realistic comic styling. The action scenes are interesting and exciting, and I found the attention to detail creates an immersive reading experience. Also, the lettering is well done and plays an important factor in the storyline as it clearly distinguishes the differing voices of David and Kelly.