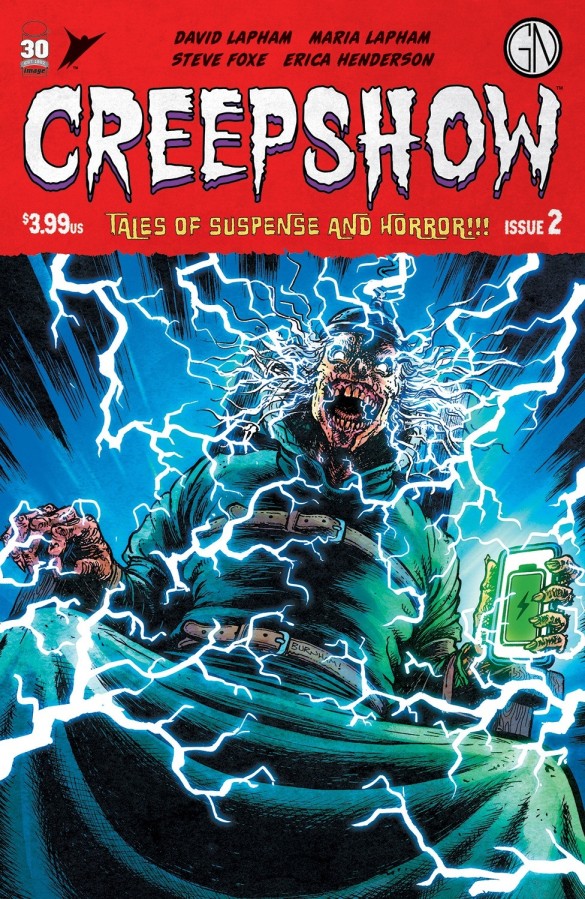 Creepshow #2
Image Comics
Written by David Lapham, Maria Lapham and Steve Fox
Art by David Lapham and Erica Henderson
Colors by Trish Mulvihill
Letters by Pat Brosseau
The Rundown: Two tales of terror unfold in this new issue.
The Gorgahmorahh Tree
Daphne loves the giant old tree that lives in her backyard until one day she decides she doesn't want to be anywhere near it. As her personality begins to change, her parents wonder what to do with her. Unfortunately, their violent solution for her changing behavior will prompt the tree to seek out the only person who ever loved it and will stop anyone that gets in its way.
An entertaining and creepy short story that has some fun elements throughout. The psychological elements affecting Daphne are some of the best parts of the story and I love the tone and style of the art.
Creator's Rites 
Sal Medina became famous for creating the loveable Infra Red character and sometimes he can still see and hear his creation talking to him now that he's gotten older. When he gets a new aide, Sal finds himself dealing with a superfan who knows everything about the character. What he doesn't realize is that his new aide has his own plans for Sal. Plans that will prompt Sal Medina to listen to the voice of his old animated creation if he wants to save his life.
A fun short story that has a great, tension filled plot and an engaging character. The art is great as well with its mixture of styles.