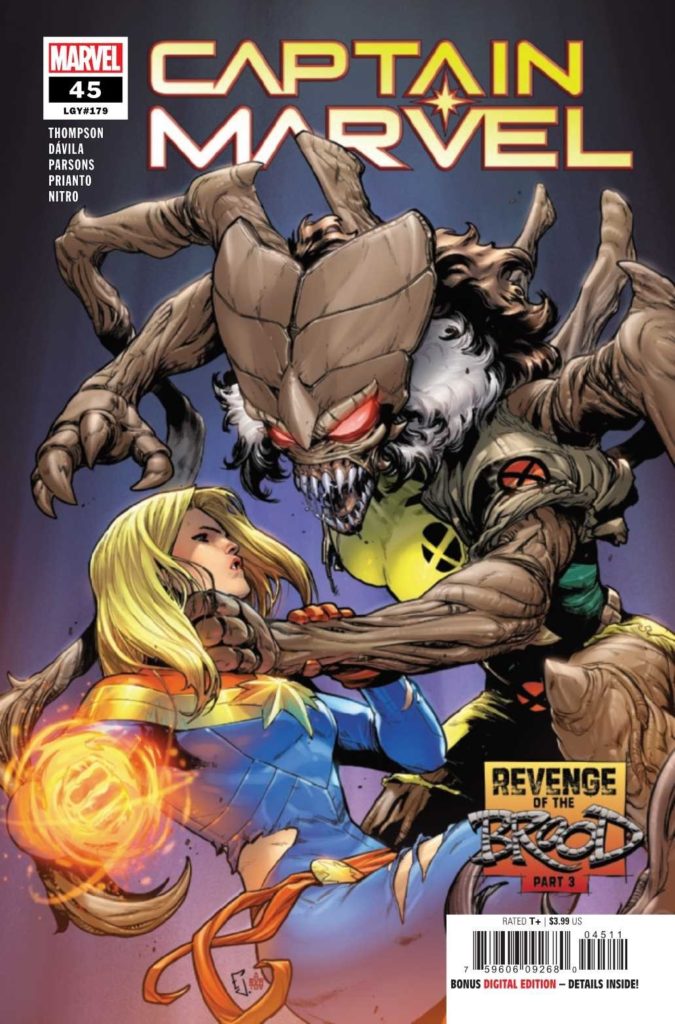 Captain Marvel #45
Marvel Comics
Written by Kelly Thompson
Art by Sergio Davila
Inks by Sean Parsons
Colors by Arif Prianto and Yen Nitro
Letters by Clayton Cowles
The Rundown: Carol and her team find themselves prisoners of the Brood who are keeping them alive for a specific reason.
In the aftermath of their victory over the Brood, Carol and the others find themselves at a party. When Psylocke realizes something isn't right, she frees one of the heroes and allows him to free the others. Carol is freed just in time as the Brood forces begin another attack. After determining part of the Brood's plan and where their friends could be held, the team splits up.
Carol decides to lead one team to find Binary while the others go looking for Rogue. Unfortunately, their plan is being observed by the Brood Queen who has her own plans for the heroes.
The Story: Thompson continues to craft a fun, exciting and thrilling adventure in this issue. I love seeing this team work together and the story has some great action and adventure throughout. There is a great moment between Carol and Jessica that emphasizes some personal growth for Carol that I loved to see and I am excited to see where the story goes next.
The Art: Davila crafts some great visual thrills throughout the issue and there are not only great character moments, but some truly scary visuals that help emphasize the tension of the story.