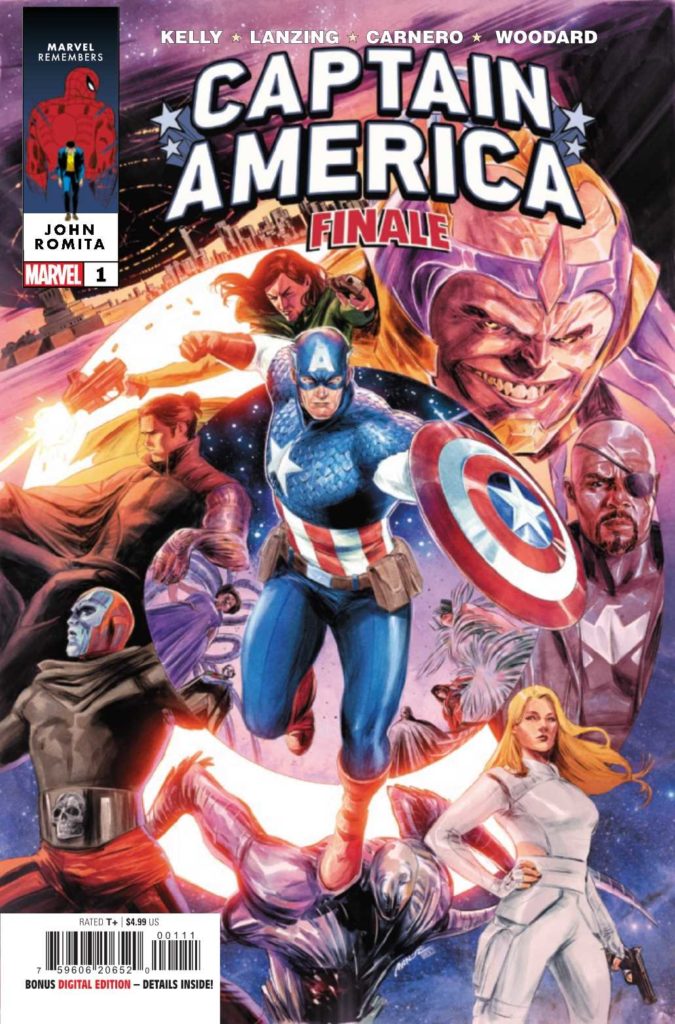 Captain America Finale #1
Marvel Comics
Written by Collin Kelly and Jackson Lanzing
Art by Carmen Carnero
Colors by Nolan Woodard
Letters by Joe Caramagna
The Rundown: Steve Rogers makes his final stand against the Outer Circle.
Bucky meets with the rest of the Outer Circle to deliver his final move in the game. A game that will see Captain America and his new Invaders land at their base and proceed to destroy everything the Outer Circle stands for. Even with the army they have and the mercenaries they've hired, Steve Rogers is determined to bring down the Outer Circle for good.
When the Machine attempts to take down Steve personally, he uses his shield to send her a powerful message from beyond the grave. A message that will lead to a new life for Steve and his allies.
The Story: Kelly and Lanzing deliver a thrilling, action-packed finale in this issue. The story launches with huge action and doesn't stop as the characters deal with the Outer Circle one at a time. I loved the progression of the action and how each character is served throughout the story. There is a moment towards the end of the issue that is amazing and has a level of dark humor that I loved. I really enjoyed where this issue leaves Steve and look forward to seeing what happens next for him.
The Art: Carnero pulls out the stops visually and delivers some blistering action throughout the issue. The visuals are filled with great detail and style.