Captain America: Cold War Omega #1
Marvel Comics
Written by Jackson Lanzing, Collin Kelly and Tochi Onyebuchi
Art by Carlos Mango
Colors by GURU-eFX
Letters by Joe Caramagna
The Rundown: Steve and Sam come together to end the White Wolf's invasion of Earth.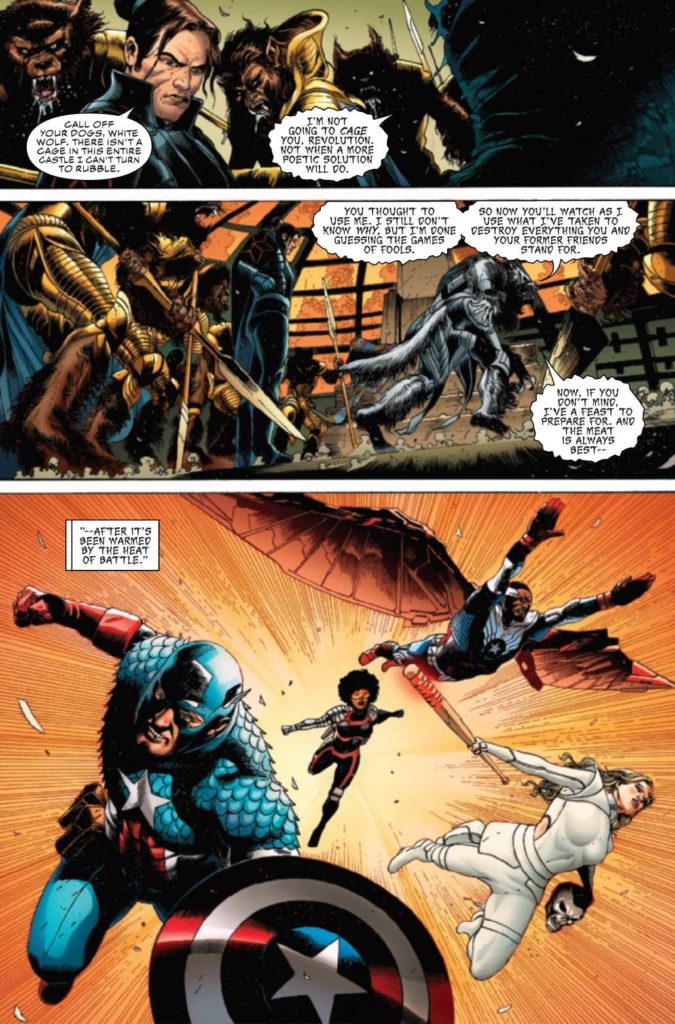 With both Captains America getting closer to the citadel of the White Wolf in Dimension Z, the villain decides he's tired of playing Bucky's game and will play one of his own as he unleashes the monsters of Dimension Z on Earth. At the same time, Black Widow helps Ian come to the realization about his place in the world as well as his purpose.
Sam, Steve, Misty and Sharon come up with a two pronged attack to stop White Wolf and rescue Ian. As they implement their plan, the battle will reveal something new and unexpected for Ian, Dimension Z and Steve Rogers.
The Story: The writers bring this arc to a satisfying and action filled conclusion with some great storytelling and characterization. There is an exposition scene that felt a little clunky and wrapped things up a little too neatly, but it works for Steve Rogers and his internal journey in the story. I like that there is still a sense of moral ambiguity to some of the characters and that the tension between them didn't just go away. The story leaves both Sam and Steve in a good and interesting place and I look forward to seeing where they go next.
The Art: Mango delivers some fantastic visuals throughout the issue. The action is thrilling and vibrant. The imagery does a great job of complementing the tone of the story and its characters.