Black Cloak #5
Image Comics
Written by Kelly Thompson
Art by Meredith McClaren
Colors by Meredith McClaren
Letters by Becca Carey
The Rundown: Phaedra and Theron discover a deeper mystery at play that could turn everything upside down.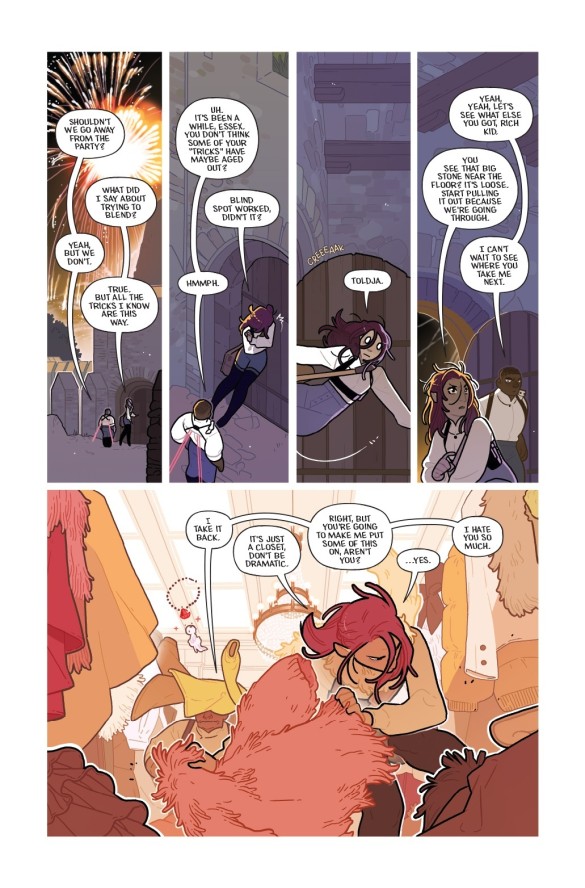 Phaedra and her partner are in the middle of an intense meeting with her father when he reveals that there might be someone that can help with her investigation. Someone who knows he's being framed for murder. As he goes to make contact, Phaedra is shown something personal by her half brother before one of the most powerful wizards in the city reveals the secret being hidden from everyone.
Armed with evidence that could upend everything the powerful hold dear, Phaedra and Theron decide to crash a party at the tower in order to get underground and learn more. A journey that will bring the two face to face with something they never could have dreamed of.
The Story: Thompson continues to deliver an engaging mystery with some great surprises throughout. I love all of the reveals in the issue and what they could potentially mean for the bigger mystery being played out. I was not expecting what was revealed and look forward to seeing what it means for the rest of the story. The interpersonal drama with Phaedra is interesting as well and I continue to love the dynamic between her and her partner Theron.
The Art: McClaren delights with colorful and beautifully detailed visual moments throughout the issue. I love the visual style of the story and the world being created within it.