Bitter Root #15
Image Comics
Written by David F Walker and Chuck Brown
Art by Sanford Greene
Colors by Sofie Dodgson
Letters by Hassan Otsmane-Elhaou
The Rundown: Ma Etta visits the other side to bring back knowledge of the threat the family faces.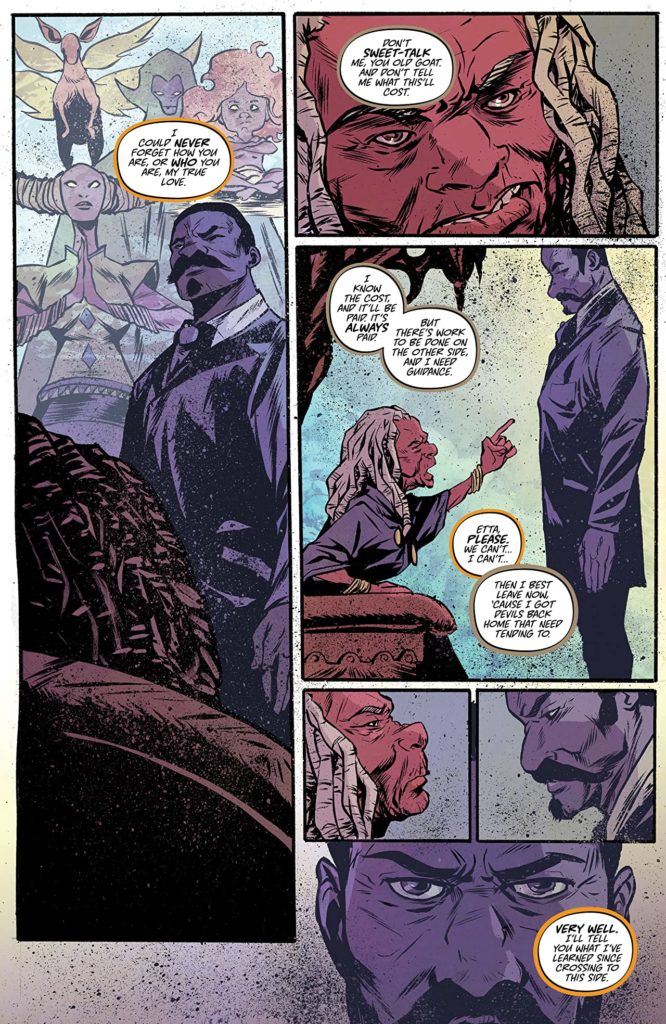 Ma Etta makes a trip to the other side to confront the ancestors and get answers to the growing infection she and her family cannot seem to kill. After getting the information she needed, she returns to the real world knowing that there will be a cost to her time on the other side. Later, Blink, Sylvester and Charlie see the aftermath of all the attacks when they visit the refugees that are flooding into the city.
Another incident in Harlem sprouts more evil from the ground and the Sangeyre famiy, along with their allies, prepare for battle. Armed with an experimental compound that might be more powerful than what they have been using, the family takes on the newest evil in Harlem with a new plan that might save us all.
The Story: Walker and Brown bring this arc to a blissfully satisfying conclusion. The entire issue is filled with awesome moments for all of the characters. There is intensity, danger and hope throughout this story and everything in the issue is on an elevated emotional plane. The plot is intense and poignant throughout. I love how this story ends and cannot wait for more.
The Art: Greene masters every page and panel of this issue with beautiful and brilliantly detailed art. The visuals are so immersive and compelling. I love the look of this book and the series as a whole.