Batman Superman World's Finest #18
DC Comics
Written by Mark Waid
Art by Travis Moore
Colors by Tamra Bonvillain
Letters by Steve Wands
The Rundown: Superman travels to Gotham when a mystery contains a Kryptonian element.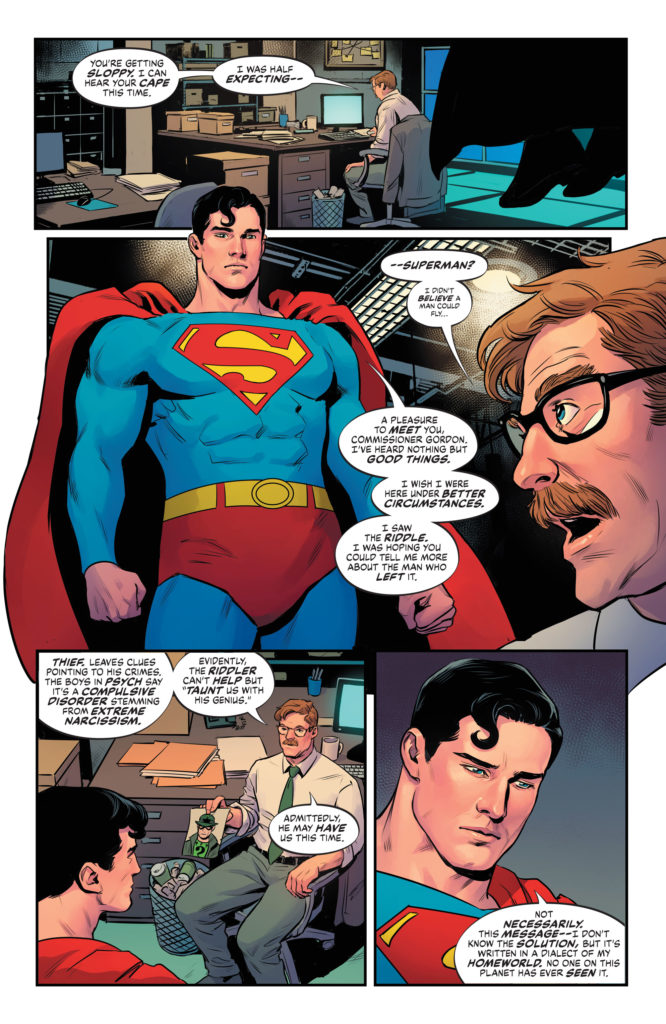 A series of robberies in Gotham have been linked to the Riddler, but the riddles being left at the scene get the attention of Superman because they are written in his native language. After taking a trip to Gotham to meet with Commissioner Gordon, Superman has his first run in with Batman who reveals that there is another mystery in the city. One that is causing people to disappear off the streets.
When someone close to Bruce becomes one of the missing, the two reluctantly team up to solve the latest mystery. A mystery that will bring them both to the Riddler himself and the mystery person pulling his strings.
The Story: A fun adventure with a great sense of nostalgic style. Even though this is a new story from Waid, it feels brilliantly familiar in its tone. I really enjoyed the tense banter between the two characters and how it begins to illustrate the relationship they will eventually have. While I'm not a huge fan of origin stories for characters with this much history both apart and together, this adventure was refreshing and entertaining.
The Art: I'm a huge fan of Dan Mora's work in this series and Travis Moore does a fantastic job picking up the torch with art that is dynamic, beautifully detailed and visually engaging.