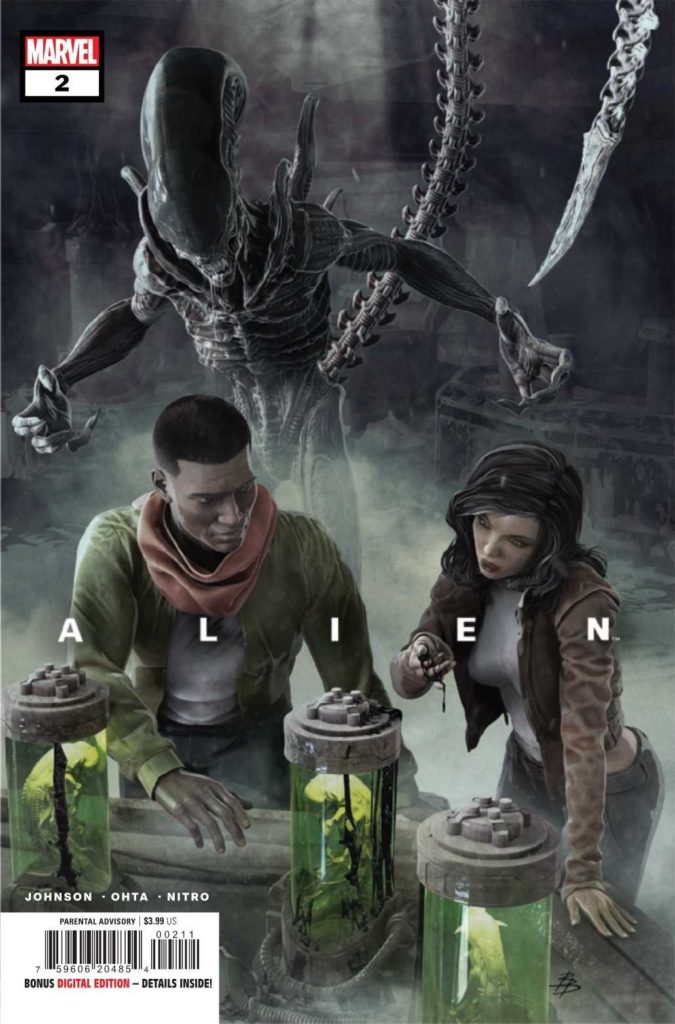 Alien #2
Marvel Comics
Written by Phillip Kennedy Johnson
Art by Julius Ohta
Colors by Yen Nitro
Letters by Clayton Cowles
The Rundown: The synthetics are dropped onto a seemingly abandoned world and discover quickly they are not alone.
The assault team of Synthetics have been transported to Tobler-9 to retrieve an alien egg from the remains of the facility. After touching down on the planet, the team moves through the destroyed city and finds a way down to the secret lab. A lab that is holding creatures that should not have survived the attack that destroyed the city.
After traveling deeper into the facility, the team discovers a nest of aliens that have led them into a trap. After a tense firefight, they discover that there are more than aliens in the facility.
The Story: Phillip Kennedy Johnson crafts an exciting and thrilling story in this issue. While the plot is definitely more action based, it does allow for exploration of these characters and their unique personalities. I enjoyed the banter between them and look forward to seeing how they interact with the new variable that has been thrown into their mission.
The Art: Ohta crafts art that emphasizes the immediacy of the plot and the strength of its characters. The visuals are as thrilling as the story.