A.X.E.: Judgment Day Omega #1
Marvel Comics
Written by Kieron Gillen
Art by Guiu Vilanova
Colors by Andres Mossa
Letters by Travis Lanham
The Rundown: In the aftermath of Judgment Day, the Eternals seek penance.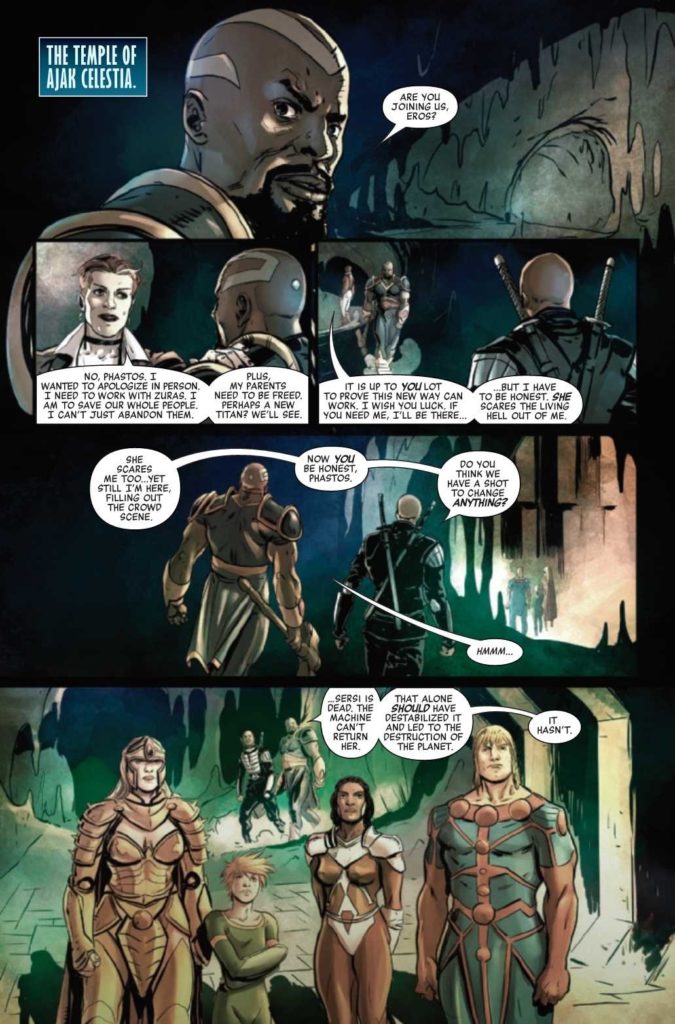 Judgment Day is over, but the Eternals still face the reality that their resurrections come at a cost and Ikaris pays a visit to the mother of one of those that had to pay. An intense visit that will change both of their lives. At the same time, Ajak and Makkari craft a new history and rules for the Eternals who have decided to become heretics in their culture. Zuras pays a visit to Uranos to tell him the details of his new role and how it is connected to Mars.
Phastos pays a visit to Krakoa to deliver something from the machine to the island. As the Eternals gather with Ajak, they are given a new mission. One that will hopefully allow them to give back to humanity. One that will bring them to Earth to live among its citizens.
The Story: An engaging and fitting end to one aspect of the Judgment Day storyline. I like that it focused primarily on the Eternals and what the new dynamics of their society will be in the aftermath of the Celestial. The story has some interesting character moments and the best part of those moments were the ones with Ikaris and the mother of the dead boy. There was some great intensity in those moments.
The Art: Vilanova delivers some great art in the issue. The story is definitely character focused and the art reflects that.