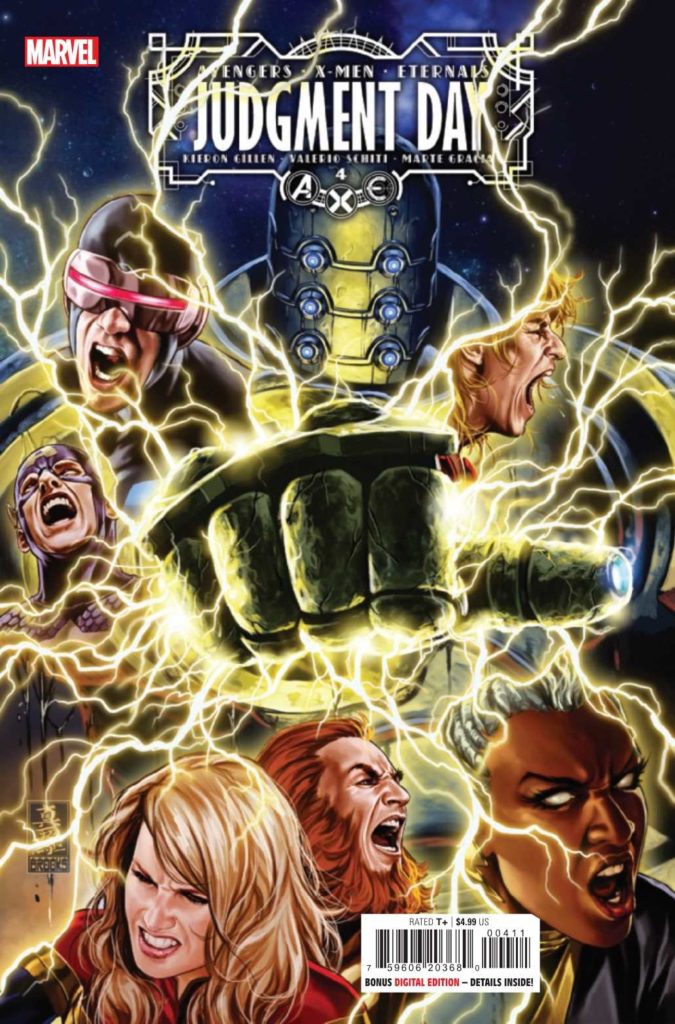 A.X.E.: Judgement Day #4
Marvel Comics
Written by Kieron Gillen
Art by Valerio Schiti
Colors by Marte Gracia
Letters by Clayton Cowles
The Rundown: As the Celestial prepares its judgment, the heroes of Earth fight to save it.
In the shadow of the Celestial's judgment, the world is tearing itself apart. Captain America finds himself unable to stem the tide and all of his attempts to uplift the populace continue to fail. At the same time, the Celestial continues to visit heroes and civilians alike one by one and judging them with surprising results for many. At the same time, the newly freed Eros decides that he needs to try another tactic if he has a chance of getting the world to come together and changing the Celestial's mind.
In a desperate attempt to hold onto power after the Eternals force another vote for leader, Druig unleashes Uranos on the Earth. It will take the combined forces of the X-Men and the Avengers to stop the Eternal from destroying everything, but when the Celestial decides on the fate of the planet, the heroes will discover that they might already be too late.
The Story: Gillen continues to craft a beautifully thrilling and tension filled story in this issue. There are some great and unexpected twists throughout the story and all of the surprises within the story are perfectly presented along with some moments that were truly shocking leading to a completely unexpected and shocking ending. I cannot wait to see where this story goes next and continue to be invested in every element of it.
The Art: Schiti delivers some beautifully detailed art throughout the issue. The action is visually thrilling and the character moments look amazing. I love the visual scope of this story and how Schiti brings it to life on the page.