Bone Orchard: Ten Thousand Black Feathers #1
Image Comics
Written by Jeff Lemire
Art by Andrea Sorrentino
Colors by Dave Stewart
Letters by Steve Wands
The Rundown: Trish returns to the home of an old friend, but cannot escape something dangerous dogging her steps.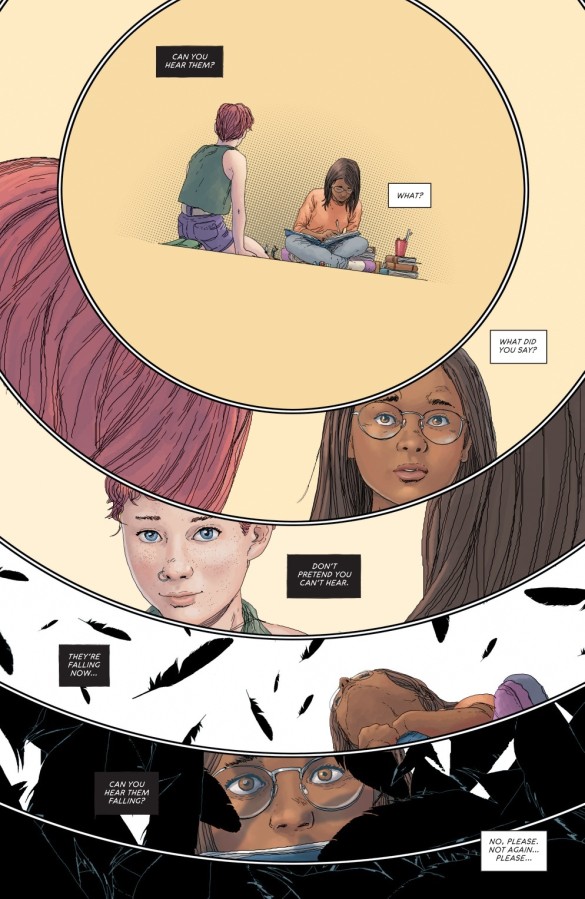 Trish cannot escape a darkness that is following her everywhere that she goes. A darkness that haunts her with the visage of a friend she made when she was young. As she returns to the town she grew up in, she goes to the home of her friend Jackie and is asked to stay by Jackie's grieving mother.
Unfortunately, Trish can't sleep as the memories of her time with Jackie continue to haunt her. Something else is haunting her as well. Something that wants her to embrace what is about to happen and her part in it.
The Story: Lemire delivers a dazzling, intriguing and engaging first issue with a story whose mystery has me immediately hooked. The character of Trish is interesting and her relationship with Jackie is just as interesting. I love the ominous tone of the story and how haunted the character is. I cannot wait to see where this story goes next.
The Art: Sorrentino delivers some beautifully detailed art on every page. I love the change in visual tone between the past and the present. The past seems filled with light and promise and the present is bathed in wonderful shadows.